Grilled Brats with Sriracha Mayo
It's always a great time to grill, and in today's environment, more people are enjoying their time outdoors by firing up their grills. Here at
The Butcher Shop
, we have some of the finest assortment of meats for your outdoor barbecues all summer long. Our selection of Old World Brats comes in a variety of flavors that allow you to get creative with your recipes. One great addition we have found that go well with our bratwurst is a Sriracha Mayo that adds a nice amount of spice that pairs excellently with the brats. Choose your favorite flavor of our brats, add the Sriracha Mayo, and whatever other toppings you enjoy to make a great summer dish.
Sriracha Mayo Ingredients
For this dish, you will need one cup of mayonnaise, two-thirds cup of minced sweet peppers, six tablespoons of Sriracha chili sauce, two tablespoons of hot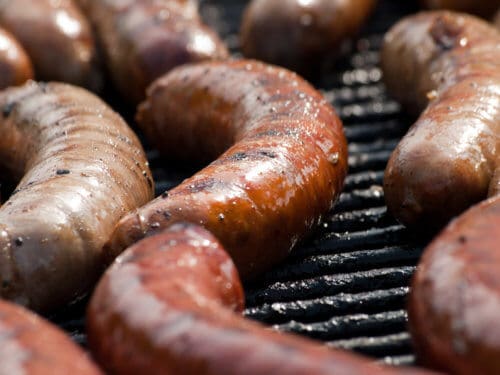 pepper sauce, eight fully cooked bratwurst and your favorite buns. Also, you can include extra mustard, relish, ketchup, or whatever side dishes you enjoy with your brats.
Grilled Brats with Sriracha Mayo Directions
Mix together the mayonnaise, minced sweet peppers, Sriracha chili sauce, and hot pepper sauce. For a healthier version, you can substitute plain Greek yogurt for the mayonnaise that still offers the tangy flavor with fewer calories.
Cook your TBS brats until they are browned and fully cooked on the inside, turning occasionally. They should reach an internal temperature of at least degrees Fahrenheit.
You can kick up the dish by lightly adding butter to your buns and toasting them to add an extra richness to the dish.
Serve the brats in your buns and add the Sriracha mayo and whatever toppings you enjoy with your brats. Some options include ketchup, onions, sweet relish, mustard, or whatever you enjoy best.
This is a quick and simple dish that comes together quite easily and is sure to leave you and your guests satisfied. Our selection of TBS Brats brings an excellent flavor to the table that pairs well with this Sriracha Mayo. Serve with your favorite side dishes to make a complete summer meal that will keep people coming back for seconds.
At The Butcher Shop, our selection of meats will have everything you need for your summer cookouts. Now is a great time to visit and see how you can incorporate our meats into your favorite recipes. Browse our selection of fresh produce to accompany your dishes and satisfy all of your cooking needs.