Why Should You Cook a Grilled Sausage Pizza Tonight?
When you're craving pizza, sometimes it's tempting to order delivery or throw a frozen pizza in the oven and call it a day. Making pizza by hand almost seems like too much work. But in fact, when you've gotten into the habit of making your own pizza instead of ordering delivery every week, you'll find that it's much more delicious, nutritious, and rewarding than the frozen varieties. You can choose your own ingredients, cook it however you want, and save money by buying meat and vegetables and bulk. Here are a few reasons you should throw a homemade pizza on the grill this evening.
A Homemade Grilled Sausage Pizza is Much More Nutritious
Frozen pizzas are loaded with fat, calories, artificial chemicals, and preservatives. If you're making pizza at home, you can make a much lighter version with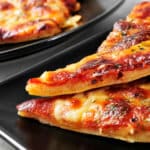 real ingredients that are packed with vitamins and minerals. With homemade dough, smoked meats, real cheese, and fresh vegetables, you'll have a quick evening meal that's as healthy as it is delicious.
Using Real Ingredients is Cheaper in the Long Run
It might seem cheaper to buy a frozen pizza from the grocery store for only a few dollars, but using real pizza ingredients is actually cheaper in the long run. You can buy meat, vegetable, and cheese in bulk and keep making pizzas until you run out of ingredients. You can also use these same ingredients in a variety of other dishes.
Real Pizza Doesn't Take Long to Prepare or Cook
Contrary to popular belief, making a real pizza doesn't take much longer than reheating one. You'll have to take some time to prepare it, but you'll find that the time goes by quickly because you're enjoying yourself so much. All you have to do is spread out the dough, slice up the meat and vegetables, add the toppings, and throw it in the oven.
Homemade Pizza Allows you to Get Creative
When you're making a pizza from scratch, you're free to experiment and add whatever ingredients you want. Here are just a few of the toppings you can add to your pizza:
Grilled Sausage
You've heard of hamburger and bacon, but how about grilled sausage for your pizza? Choose from several varieties including Cajun, Polish, and jalapeño cheddar for an unforgettable taste sensation.
Specialty Cheeses
Nothing compares to fresh mozzarella. But if you feel like experimenting, try a different Italian cheese like ricotta or provolone for a unique taste and texture.
Fresh Vegetables
You can add anything to pizza: hot peppers, fresh tomatoes, chopped onions, juicy olives, cooked spinach. Plus, more vegetables means more nutrients and health benefits.
Ready to Cook Up a Grilled Sausage Pizza Tonight?
Skip the delivery and throw a fresh, delicious pizza on the grill tonight. At The Butcher Shop, we've got fresh, organic vegetables, local grass-fed meats, and delicious specialty cheeses to help you make this a dinner to remember. Visit us today and see what we've got in stock!