Asian Pork Tacos
Introduction
Tacos are some of the most delicious forms of fast food. However, it's quite easy to give them a slight twist to make them a quality appetizer or meal. Let us take a very close look at why you should be cooking Asian pork tacos.
Ingredients
To start things off, you need quality ingredients for these pork tacos. A TBS pork shoulder, soy sauce, brown sugar, and cornstarch are a few of the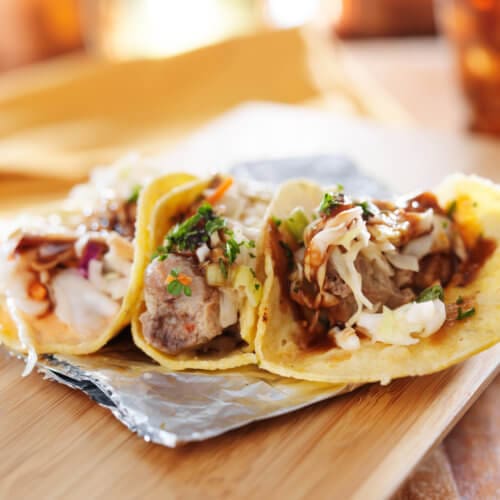 essentials. Lime juice, dried cilantro, and diced pineapples are excellent additions as well. You'll want to put all of these on top of your tortillas for a delicious meal. Depending on how much you like spicy things, you can add a couple of drops of Hoisin sauce or Sriracha sauce. However, make sure these sauces are added at the end so they don't get mixed with other flavors.
Cooking
Next in line, it's best to use a slow cooker to cool all of the above. Whisk together all of the liquid ingredients and slow cook the pork for eight to ten hours. If things are too thin, feel free to add cornstarch as needed. By the end, the sauce should be nice and thick instead of watery. Most importantly, cook until the pork reaches at least 205 degrees. Keep in mind that because you're going to be pulling the pork apart, it should be cooked more than a regular pork loin. People love a slightly charred texture on these pork tacos.
Presentation
In the grand scheme of things, you need to finish off these tasty tacos with a beautiful presentation. Sour cream is a very popular topping for these tacos. Don't be afraid to add more toppings than usual to make the tacos overflow. This leads to an irresistible presentation as people can see the heaps of meat and vegetables.
Variations
Last but not least, there are a couple of amazing variations to these tacos. Instead of cooking the pork Asian style, try a brisket or slow roast. You'll be able to adjust the texture of the pork just how you like it. In addition, experiment with flour and corn tortillas. While these tacos usually come with corn tortillas, flour tortillas are often smoother and just as tasty.
Conclusion
When all is said and done, these are a couple of great approaches to Asian pork tacos. These tacos are the perfect addition to a party or banquet. Buy meats and vegetables at The Butcher Shop when planning for these tacos.