How to Prepare Perfectly Grilled Ribeye
As the summer approaches, you're likely excited to get on the grill and perhaps try a few new recipes. If your family enjoys steak or you're looking to impress your friends at your next get-together, you may want to make ribeye steak the main course on the menu. Whether you've prepared this cut of meat before or you're a novice on the grill, here are some helpful tips for making perfectly grilled ribeye.
Heat Up the Grill
Place a cast-iron skillet on the grill and light the grill. While the grill is heating up, it's time to prepare your main course.
Prep the Steak
A few hours before you want to cook the ribeye, season the meat heavily with salt and pepper. Place the steaks in the fridge after seasoning them. Don't wait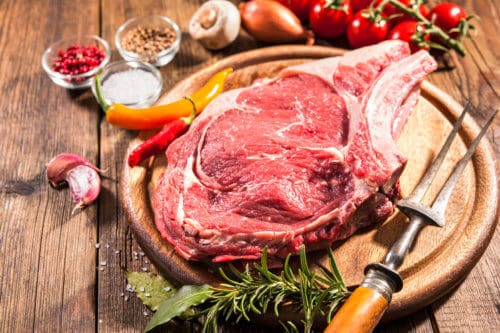 for the steaks to warm up to room temperature when you take them out of the refrigerator — just place them directly on the grill.
Cooking the Ribeye
For the majority of the time you're cooking the steak, the meat should be directly on the grill. It's perfectly fine the flip the steak as often as you want, but once every two to three minutes is ideal. Use a read thermometer to measure the temperature of the meat.
Add some butter to the skillet. Make sure the grill is as hot as possible for this part of the cooking process. Place the steak in the skillet and use a spoon to make sure the entire cut of meat is covered in butter.
Remove the skillet from the grill and let the steak rest for about three minutes.
Adding to Your Meal
You can also place mushrooms, carrots, and potatoes in a foil pack and put them on the grill next to the steak as a tasty, healthy side dish. Add butter, sea salt, and fresh herbs to the vegetables to give them more flavor. Perfectly grilled ribeye also pairs well with a quality red wine in the fall or winter or a tasty IPA if you're grilling in the spring or summer. The caramelized butter on the steak pairs well with the hops in beer and the slight fruitiness of red wine balances the savory taste of steak.
Preparing a steak this way may take a little more time than you're used to, but the results are well worth it. To purchase the perfect grilled ribeye and fresh vegetables you need for a healthy and delicious meal, visit The Butcher Shop. See what we have to offer at http://butchershopinc.com/