Grilled Korean Short Ribs
Most short rib recipes require you to slowly braise them for hours, but did you know that they can be just as delicious when you grill them quickly? Lately, one of our favorite ways of cooking short ribs has been doing a Korean style grilled short rib. Called "Galbi" in Korea, this classic dish is a favorite for parties and gatherings.
How to Make Grilled Korean Short Ribs
Korean cooking is all about balancing sweet, savory, nutty, and spicy flavors. The key to maintaining tenderness while speeding up cook time is a simple marinade. Most of the ingredients are things you can find at any local store, but if you cannot access Asian pears, a bosc pears will work just as well.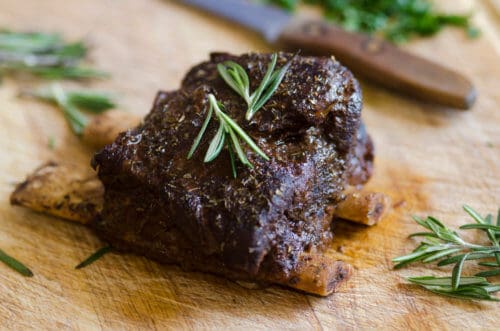 Ingredients
3 pounds flanken-style short ribs
⅓ cup soy sauce
⅓ cup sake or mirin
¼ cup honey or brown sugar
½ tsp. sesame oil
1 tsp. ground black pepper
1 Asian pear
8 cloves garlic
1 onion
1 tbsp. minced ginger
2 tbsp. vegetable oil
Instructions
1. Blend together the soy sauce, cooking wine, honey, sesame, and oil in a large bowl.
2. Grate or finely mince the pear, garlic, onion, and ginger into a fine paste. (If you have a food processor, this will speed up the process!).
3. Combine the minced vegetables with the soy sauce mixture and stir to combine.
4. Add your short ribs to the mixture, cover, and refrigerate for at least two hours or up to 24.
5. Heat your grill to high heat and brush the grate with oil.
6. Remove the ribs from the marinade, discard the liquid, and place them directly on the grill.
7. After two to three minutes, flip to brown the other side. The ribs will be ready in roughly five minutes.
8. Serve with steamed rice and kimchi, or make lettuce wraps by combining the ribs with rice and ssamjang in a lettuce leaf.
Getting the Right Cut for Your Grilled Korean Short Ribs
As you may have noticed, Korean short ribs don't look much like traditional short ribs. This is because the meat is cut flanken-style, which requires short horizontal cuts across the bone. At The Butcher Shop, we are happy to provide you with flanken-style ribs for your next Korean dinner. We can also help you access all sorts of other delicious, healthy, and locally-sourced meats, fruits, and vegetables. Visit our store or give us a call to find out more about our high-quality products.