Smoked Sausage and Chicken Jambalaya Recipe
If you get bored with the typical routine of burgers and pizza, spice up your life, and add some variety with this simple, popular dish. Jambalaya is a traditional rice dish that exemplifies the bold flavors of Louisiana-style cooking. The procedure is not very complicated, but it's worthwhile to take care to develop the flavor.
Ingredients
Essentials
1 tablespoon vegetable oil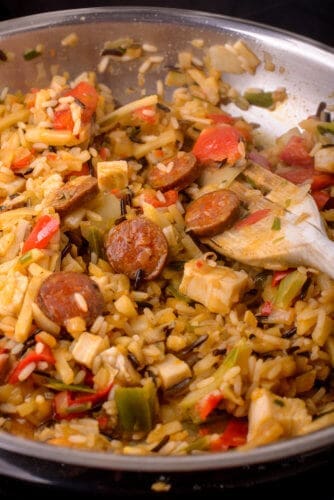 1 pound chicken, cut in 1-inch cubes
1 pound Andouille sausage, sliced 1/4-inch thick
1 medium red onion, chopped
1 medium green bell pepper, chopped
1 rib celery, chopped
1 medium tomato, chopped
1 cup long-grain rice
1 3/4 Chicken Stock
Jambalaya seasoning
1 tablespoon cayenne pepper
2 Turkish Bay Leaves
1/2 teaspoon thyme
1/2 teaspoon salt
A dash of black pepper
2 cloves chopped fresh garlic
Equipment
You will preferably want to use a cast-iron skillet for this recipe. You will use the same pan for each stage of the cooking process, which will be done at every stage on the stovetop.
Jambalaya cooking procedure
1. Brown the meat
Like most dishes that incorporate meat and vegetables, you should create a flavor base by browning the meat. You do not cook the meat completely during this stage. Add the sliced sausage pieces, and brown them on both sides. Remove the sausage, and brown the chicken cubes in the leftover fat from the sausage in the pan without cooking completely. Remove the chicken and set it aside with the sausage. Leave the fat in the pan as a flavor base for the other ingredients.
2. Sauté the aromatics
Add a couple of tablespoons of cooking oil to the meat fat in the skillet, warm it up on medium heat, and add the chopped onion and garlic. Sauté on medium-low heat until the onions are translucent and beginning to turn a light brown color.
After about a minute of gently frying the onions and garlic, add the peppers and celery. When all of the aromatics have cooked for about 2 minutes, stir in the chopped tomatoes, and add all the seasonings. Stir the tomatoes and seasonings thoroughly, and let these ingredients cook on low heat until the tomatoes absorb all the flavor and look cooked.
3. Add remaining ingredients and simmer
Stir in the chicken and sausage. Create an even mixture of meat and vegetables when you stir, and cook all these ingredients together for a minute to blend the flavors. Taste to check for any adjustments in seasoning such as salt or pepper.
Next, add the rice and stock, and bring the pan contents to a boil. Finally, reduce to low heat, and simmer the dish for about 25 minutes covered. When the rice is soft, the dish is done and ready to serve.
This dish is relatively simple for cooks who have a little bit of familiarity with cooking food with bold flavor. For even better results, source your meat and vegetables from a high-quality shop. Visit The Butcher Shop online to order from a fine assortment of cooking ingredients.Smoked Sausage and