Herb Roasted Chicken
There is nothing more comforting than a whole herb-roasted chicken on a bed of root vegetables. This is especially delicious on a rainy night. Pair this meal with a nice local Pinot Noir, Viognier, or Pinot Gris. Here's one of our favorite recipes to try.
Herb Roasted Chicken with Root Vegetables Ingredients: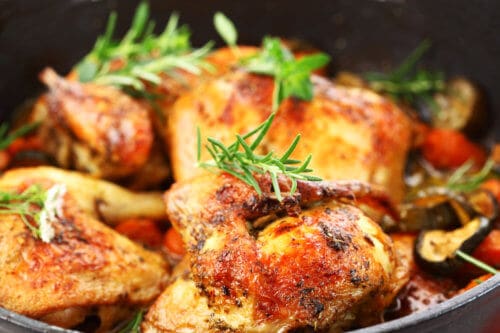 TBS fresh organic whole chicken
3 pounds baby red or fingerling potatoes, halved
4 medium carrots, cut into 1-inch pieces
4 medium carrots, cut into 1-inch pieces
2 medium parsnips, cut into 1-inch pieces
6 garlic cloves, chopped
4 fresh thyme sprigs
4 fresh dill sprigs
2 fresh rosemary sprigs
1 medium lemon
1 small orange
1 small onion, halved
1 teaspoon Kosher salt
1/2 teaspoon freshly ground pepper
3 cups chicken broth at room temperature
Directions:
1. Preheat your oven to 350°F. Rinse the chicken and pat it dry with paper towels. Place the chicken on a cutting board and tuck the wing tips under. Place 1/3 of the garlic inside the cavity and rub it all around.
2. Place the potatoes, carrots, and parsnips in a shallow roasting pan. Top with the herbs and the rest of the garlic.
3. Place the chicken, breast side up, over the vegetables and herbs. Cut the lemon and orange in half and squeeze the juices over the chicken and vegetables. Place the onion halves and squeezed fruits inside the chicken cavity. Sprinkle the chicken with salt and pepper. Pour the broth around chicken over the vegetables.
4. Put the pan inside the oven and roast until the internal temperature of the thigh meat reads 170°F when checked with a digital meat thermometer, approximately 2 to 2-1/2 hours. The juices should run clear and the vegetables should be fork-tender.
5. Remove the pan from the oven. Place the chicken on a clean cutting board and tent loosely with foil. Allow the bird to rest for 15 minutes before carving.
6. Take the herb sprigs out of the vegetables and discard. Remove the vegetables to a large serving platter with a slotted spoon. Season with a little salt and pepper. The pan juices can be reduced to make a gravy if desired. Carve the chicken and place the pieces next to the vegetables on the platter. Serve and enjoy.
Get Everything You Need at One Shop
When you are ready to make this awesome meal, head to the Butcher Shop in Eagle Point. We carry organic whole chickens that are sourced locally. While you are there, browse our seasonal produce selection for vegetables, aromatics, and herbs. Grab some artisanal cheeses and apples to have as an appetizer. And don't forget to pick up a couple of bottles of regional wine or some local brews.