Garlic Butter Shrimp
When you hear the words Garlic Butter Shrimp, what immediately comes to your mind? The exotic aroma? The brightly colored ingredients? Maybe it's the rich taste of the dish bursting with flavor the second it hits your taste buds. Or perhaps it even brings to mind images of coastal Mexico, with its turquoise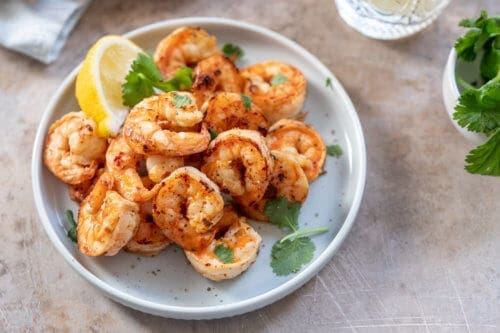 waters and colorful fish lining the stalls in the Mercado, or 'Market'. Camarones al Mojo de Ajo, as the dish is named in Spanish, has been a staple dish of these same coastal Mexican Towns for generations. While most Americans are only familiar with the common Tex-Mex food, there has been a growing trend of chefs attempting to bring authentically Mexican dishes to United States diners. Jump onboard this culinary movement by incorporating these authentic Mexican flavors into your own kitchen at home, all with the help of The Butcher Shop, Inc.
Sea of Cortez Shrimp
This buttery dish is commonly made with Sea of Cortez shrimp, fresh garlic, and a hint of bright and zesty lime juice. Simply add everything to a pan and sauté until the shrimp are cooked through, then add whatever other spices and sides you desire. Though one of the simplest dishes to make at home, it's usually only found here in big chain Mexican or seafood restaurants. We at The Butcher Shop aim to change this by offering fresh shrimp in our retail store! Now you can bring this delicious taste of traditional Mexican cooking into your own kitchen, no plane ticket or trip to Mexico required.
Come See Us!
We source everything as locally as possible and receive our fresh, never frozen, seafood shipments three times a week. We even carry various market and grocery items to create a unique, one-stop shopping experience that lends itself to delicious dinners with the freshest ingredients Oregon has to offer. If you have a special occasion such as a date night, an anniversary, or even just a night in, using our Sea of Cortez Shrimp to create a flavorful dish of Garlic Butter Shrimp is sure to delight! Everything, including fresh local vegetables, can be purchased right here, allowing your seafood to go from ocean to completed meal in 24 hours. Pick up a bottle of local Wine to really enhance the flavors of your dish and help you indulge in an authentic, simply Oregon experience. Come in and visit us today and ask for recommendations on recipes and preparation methods for local produce with an international flavor. Get your shopping list together and stop into The Butcher Shop Inc. today. We can't wait to see you!