Pan-Seared Red Snapper An Easy, Fast and Elegant Dish
What's better than coming home from a busy day and knowing that a delicious and elegant dinner can be ready in only a few minutes? Not a whole lot! This Pan-Seared Red Snapper dish is all about the fish and a few simple ingredients set off with a little cilantro. You'll love that the preparation is minimal and the cooking time is amazingly short. Enjoy it on a casual weeknight or add a perfectly chilled bottle of white wine and you'll have a weekend meal so elegant, you'll feel like you're in a fine dining restaurant
Red Snapper with Lemon Butter and Fresh Cilantro
Ingredients
2 (4-ounces) red snapper fillets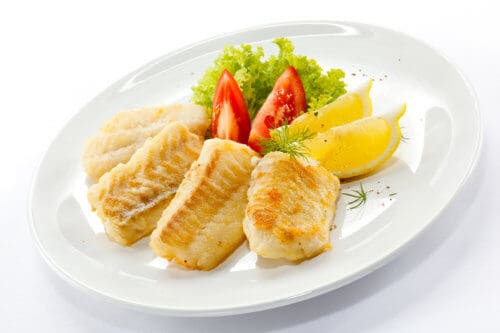 1 teaspoon paprika
½ teaspoon garlic powder
¾ teaspoon salt
½ teaspoon freshly ground black pepper
6 tablespoons unsalted butter
2 lemons, 1 juiced and the other cut into wedges for garnish
A handful of fresh cilantro, roughly chopped
Instructions
*Combine seasonings in a small bowl and set aside.
*Rinse fillets under cold water and pat dry.
*In a nonstick skillet, melt the butter over medium heat.
*Sprinkle both sides of the fillets with seasoning.
*When the butter is foamy, place the fillets in the skillet.
*Drizzle half of the lemon juice over the fish.
*Cook for two to three minutes on medium heat and then flip the fish over.
*Drizzle the rest of the lemon juice over the other side of the fish.
*After about a minute, tip the pan and spoon the hot butter over the fillets as cooking continues.
*When the fish flakes nicely, remove from pan and place onto a serving plate.
*Add the cilantro to the pan and stir.
*Pour the lemon butter and cilantro mixture from the skillet over the fish.
*Serve immediately.
What Side Dishes Are Complimentary?
To really turn this Pan-Seared Red Snapper dish into something special, begin the meal with a simple garden salad topped with a light, herby vinaigrette. Then, as an accompaniment to the fish, a steamed green vegetable like green beans or broccoli would look beautiful on the plate while not overpowering the fish. A warm loaf of crusty French bread with melted butter would be just about the perfect finishing touch to a meal you won't soon forget.
For those home cooks in Southern Oregon who appreciate personalized service and the finest, freshest ingredients, The Butcher Shop is a must-visit destination. They proudly offer only the best locally sourced grass-fed meats and a fresh selection of seasonal fruits and vegetables sourced directly from local farmers.