Slow Cook Chicken Parmesan
Chicken Parmesan is a favorite food around the world, and there are many variations. It is often served with pasta or in a sandwich. 
Start with high-quality chicken, vegetables and cheeses, such as those found at The Butcher Shop, for a sure-fire winner to warm your belly and soul on a wintry day.
Take advantage of the slow cooker to reduce energy costs and to bring out the array of flavors in this delicious dish.
Ingredients for Breaded Chicken Breasts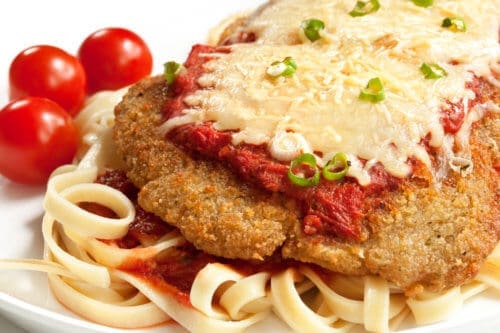 3 boneless, skinless chicken breasts
1 cup bread crumbs
1/2 cup Parmesan cheese
1/2 teaspoon salt
1/4 teaspoon pepper
1 teaspoon garlic powder
1/2 teaspoon onion powder
1/2 teaspoon paprika
1 teaspoon oregano
2 eggs
2 tablespoons milk
Ingredients for Sauce
1 1/2 tablespoon olive oil
1 medium onion, chopped
1 cup sliced mushrooms
3-6 cloves garlic, grated or minced
28 oz can crushed tomatoes
1 teaspoon salt
1/2 teaspoon sugar
1 teaspoon oregano
1 teaspoon basil
1/2 teaspoon tarragon
1/2 teaspoon thyme
1/2 teaspoon paprika
1 tablespoon balsamic or apple cider vinegar
1/2 teaspoon Worcestershire sauce
Ingredients for Cheese Topping
6 slices mozzarella cheese
1/4 cup plus 2 tablespoons Parmesan
1/4 teaspoon garlic powder
1/4 teaspoon basil
1/4 teaspoon oregano
1/8 teaspoon paprika
Instructions for Slow Cook Chicken Parmesan
1) Place your hand lightly on top of 1 chicken breast and slice slowly, horizontally, creating 2 thin even portions. Repeat with the remaining 2 chicken breasts.
2) Mix egg and milk together in a medium bowl.
3) Mix bread crumbs, Parmesan, salt, pepper, onion powder, garlic powder, paprika and oregano in a second medium bowl.
4) Place a piece of parchment paper over a baking sheet.
5) Dip each thin chicken breast portion into the egg-milk mixture and allow the excess to drip off, then press the chicken breast into the bread crumb mixture. Turn and repeat to coat both sides. Place coated chicken breast onto a prepared baking sheet. Repeat until all 6 pieces of chicken are coated.
6) Fry chicken breast portions in a small amount of oil on medium-high heat, just until browned on both sides. Drain on paper towel.
7) Lightly coat bottom of slow cooker with cooking spray or oil. Layer fried chicken portions into the slow cooker and set to low.
8) For the sauce, pour 1 1/2 tablespoon olive oil into a saucepan. Saute mushrooms and onions until water has been released and onions are translucent.
9) Add garlic and saute for 1-2 more minutes. Add crushed tomatoes and the rest of the spices. Pour in vinegar and Worcestershire sauce. Stir well.
10) Pour the sauce over the breaded chicken breasts in the slow cooker. Cover and cook on low 4-6 hours. Check to ensure chicken has reached at least 165 degrees.
11) 30 minutes prior to serving, place 1 slice mozzarella on each chicken portion. Mix Parmesan and remaining spices in a small bowl, then sprinkle evenly over the top of the chicken portions. Cover and cook for another 30 minutes on low, until cheese has melted.
12) Serve with angel hair pasta or with spaghetti squash for a low carb option.