Braised Short Ribs Recipe
It's that time of year again, where comfort foods and family traditions abound. Braised short ribs are a perfect addition to any family meal. They are super easy to make and you don't need any special equipment. You just use one pot or a Dutch oven to create perfect, fall-off-the-bone short ribs. Braising is a method where you brown the meat and then let it simmer in a sauce with vegetables for a while until the meat is literally falling off the bones. The sauce with vegetables is easy to make. And the aroma while cooking them will make your mouth water.
Braised Short Ribs Ingredients List
First, you'll need to pick up some short ribs from the Butcher Shop. Ask your butcher for local, grass-fed meat which is the healthiest. For this recipe, you'll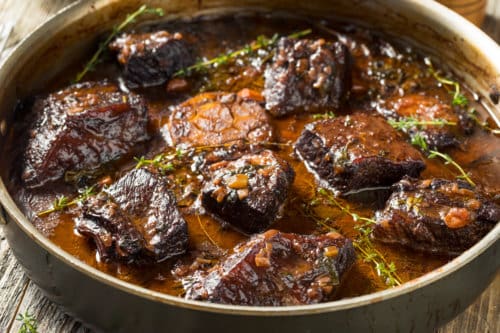 need 8 whole beef short ribs.
You'll also need a fresh onion, carrots, thyme, and rosemary. Many times your local butcher or farm stand will also carry fresh vegetables and herbs. For this recipe, you'll need 1 yellow onion, 3 carrots and 2 sprigs each of fresh thyme and rosemary.
You'll also need:
3 Tablespoons Olive Oil
1/4 cup all-purpose flour
1 cup dry red wine (such as Pinot Noir or Cote du Rhone)
2 1/2 cups low-sodium beef broth
2 Tablespoons tomato paste
salt & pepper (to taste)
Instructions
* Heat your oven to 350 degrees.
* Heat 1 Tablespoon of olive oil over medium heat in a Dutch oven or pan.
* Add chopped onion to the pan and cook for a few minutes, stirring constantly.
* Add sliced carrots to the same pan and cook for a couple more minutes.
* Remove the vegetables from the pan.
* Salt and pepper the short ribs and then coat all sides of the ribs with flour.
* Add two more tablespoons of olive oil to the pan and heat, over high heat.
* Add short ribs to the pan and brown all sides.
* Remove the short ribs from the pan.
* Pour the wine into the pan and scrape the sides to release the browned pieces from the sides of the pan.
* Bring the wine and browned flavor mixture to a boil and cook for two minutes.
* Add the beef broth and more salt and pepper to taste.
* Stir in the tomato paste.
* Now add the cooked short ribs and the vegetables.
* Also add the whole sprigs of thyme and rosemary.
* Cover and Put the pan or Dutch oven into the oven and cook at 350 degrees for 2 hours.
* Reduce the oven temperature to 325 degrees and cook for an additional 30-45 minutes.
* Remove from the oven and let sit for 20 minutes.
* Remove the lid and skim off any fat on top.
Now it's ready to serve over mashed potatoes, risotto or your choice of side.
Serving your Scrumptious Meal
Start your meal with a fresh salad. Some ideas are a wedge salad or a harvest salad.
We recommend serving your short ribs, vegetables and sauce mixture over mashed potatoes or risotto. Some other great ideas are serving it over mashed cauliflower, quinoa or brown rice. Serve freshly baked rolls and butter with your meal. There's nothing better than dipping your warm, buttered roll into the short ribs sauce.
Cooks, if you live in the Southern Oregon area, visit The Butcher Shop for all of your high-quality grass-fed meat and fresh vegetables and fruits needs: http://butchershopinc.com/ The Butcher Shop is a local, old-fashioned butcher shop that features grass-fed meats and high-quality fruits and vegetables.
Once you are done cooking these fabulous braised short ribs sit back, relax and enjoy!