The Recipe for Traditional Cornbread Dressing:
Cornmeal has so many uses that stagger the mind. Most people are familiar with cornmeal when they purchase or bake corn muffins. Some families love cornbread and still, other families consider cornbread dressing a tradition for holidays and special menus.
Cornbread dressing is made either from pre-baked cornbread croutons or it can also be made from cornmeal and other ingredients as a wet batter.
When you choose to make cornbread dressing from scratch using cornmeal, note that if you use buttermilk instead of whole milk, the result is a richer cornbread dressing texture.
Subtle Nuances Add to Cornbread Dressing Recipes Professional chefs like to add ingredients that compliment the flavor of a cornbread dressing recipe.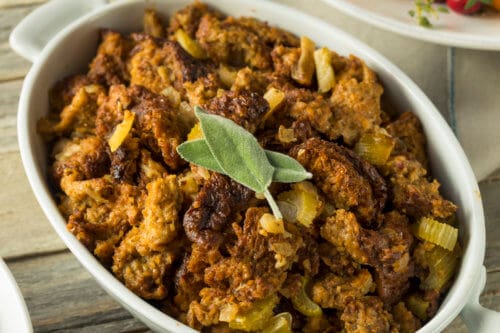 These include:
. Pre-cooked, crispy bacon crumbles
. Finely chopped pecans, almonds or walnuts
. Diced apple bits
. Raisins
. Herbs like chopped chives, minced garlic, freshly chopped parsley, dill or coriander or dried sage or mint leaves
. Spices like curry, coriander or dill
The Basic Recipe for Cornbread Dressing
There are relatively few ingredients to a cornbread dressing recipe. The basic ingredients include:
. Self-rising flour or all-purpose flour
. Baking powder (For use with all-purpose flour only. Self-rising flour contains baking powder.)
. Egg or egg white (as preferred) well beaten
. Cornmeal
. Canola oil
. Sugar
. Salt
The amount of ingredients depends on how many servings of cornbread dressing you need. If you plan to use cornbread dressing to stuff a chicken or turkey, you need to prepare enough stuffing according to the size of the bird, and make sure you get a fresh bird from the Butcher Shop
Also, if you make cornbread dressing from pre-baked cornbread, the cornbread needs to be "day old" to make it easier to cut into croutons. Pre-baked cornbread can be toasted or grilled to use in cornbread stuffing.
To make cornbread dressing from scratch with all-purpose flour, the ingredients to serve nine people includes:
Ingredients:
1 1/4 cups of all-purpose flour
3/4 cups cornmeal
1/4 cup sugar
2 teaspoons baking powder
1/2 teaspoon salt
1 cup milk or buttermilk
1/4 cup canola oil (Or reserve bacon drippings and substitute for canola oil)
2 egg whites or one egg well beaten
1/2 cup pre-cooked bacon bits
To make the dressing:
1/4 cup diced onion
1/4 cup chopped celery
1 clove garlic finely minced
1/4 cup chopped chives
1/2 teaspoon coriander spice
1 egg well beaten
Directions to Make Baked Cornbread Croutons:
Preheat oven to 400 deg. F. Grease a cast-iron skillet or deep, round baking dish.
In a small bowl, sift together flour, cornmeal, salt, sugar and baking powder. In a large bowl, Blend milk or buttermilk, canola oil or bacon drippings egg whites or beaten egg and bacon bits. Slowly add in dry ingredients and stir until the mixture resembles a medium thick batter.
Pour into your skillet and bake for approximately 20 to 25 minutes. Remove from the oven and allow to rest a half hour. If preferred, baked cornbread can be toasted or grilled and cut into croutons or cut without toasting or grilling.
To Make Cornbread Dressing from a Wet Batter
Follow the directions for making cornbread and add in egg, onion, garlic, celery, chives, and coriander. Stuff bird and bake as usual.
To serve dressing as a side dish, place the dressing mixture baked or unbaked in a buttered baking dish or skillet. Bake about 20 minutes. Insert a toothpick into the center to test for doneness.