Split Pea Soup with Ham Hock
One of the most comforting dishes on a cool day is a steaming bowl of split pea soup. Our favorite way to impart a ton of flavor is to make this soup with a ham hock. You can use either fresh or smoked ham hock. And, you will want to get all that meat off the bone to add back into the soup before serving.
At The Butcher Shop we recommend one of our smokehouse favorite ham hock for this recipes. While here you can pick up farm fresh produce to complete the soup. So, let's get to our Split Pea Soup with Ham Hock recipe.
Split Pea Soup with Ham Hock Recipe
Ingredients:
3 tablespoons extra virgin olive oil
1 large onion, finely diced
2 celery stalks, diced
2 carrots, diced
2 cloves garlic, minced
1 teaspoon dried thyme
1/2 teaspoon ground cumin
1 pound bag dried green split peas, picked over and rinsed
1-1/2 pound smoked ham hock
2 quarts low-sodium chicken stock or water
Salt and freshly ground black pepper to taste
Directions:
1. In a large soup pot or Dutch oven on medium-high heat, add the olive oil and sauté the onion, celery, and carrots until just starting to get some color,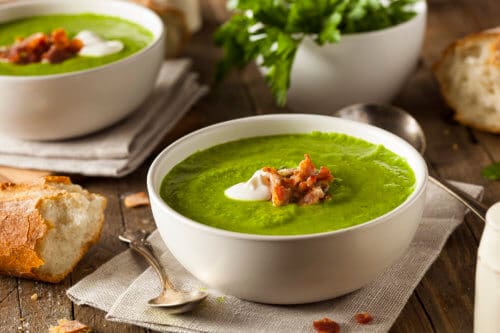 approximately 3 minutes. Add the garlic, thyme, and cumin. Sauté until fragrant, approximately 1-1/2 minutes.
2. Add the ham hock, peas, and stock. You want the peas to be covered by approximately 2 inches of stock. Bring to a boil. Turn the heat down to a low simmer. Cook for approximately 1 hour until the peas are completely soft and the soup has thickened.
3. Remove the ham hock to a cutting board and allow it to cool so that you can handle it.
4. Season the soup with salt and pepper. Turn the heat to low just to keep the soup warm.
5. With 2 forks, shred the meat off of the ham bone and dice into bite-size pieces. Return the ham hock meat to the soup and stir.
6. Serve the soup with crunchy croutons on top or crusty bread on the side.
Visit The Butcher Shop for Soup Ingredients
You don't have to spend a day smoking your own ham hocks for soup. The Butcher Shop has done the work for you. Our in-house smoked ham hocks are non-GMO and are sourced from local farmers that raise their animals humanely. Your pea soup will have a lovely smoky flavor and the ham will be juicy and tender. Please visit the TBS website or come to our shop.