Perfectly Grilled Burgers
It is the peak of summer and time to fire up the grill for some classic burgers. Hamburgers can be tricky to cook on an open flame. The reason grilling is sometimes tricky is that there can be flair ups of flames when the fat in the meat drips onto the fire. This can result in burgers that are charred on the exterior and raw in the center. There a few ways around this dilemma so that you can achieve the perfect grilled burger.
Tips for Grilling Burgers
It might be tempting to pick up a box of frozen patties to easily toss on a hot grill. These can sometimes be a little too fatty and quite thin. We recommend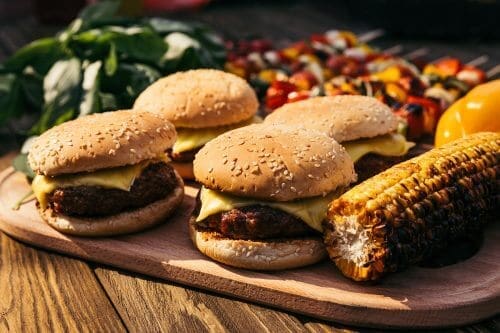 visiting The Butcher Shop and asking for our 85/15 ground chuck. What that means is that the beef is 85% lean with 15% fat content. This ratio will ensure that the burgers are juicy and there won't be too much fat to cause shooting flames. Ground chuck is common. We can suggest different tasty cuts of beef to use if desired
Making your own patties is not difficult. It is particularly easy if the meat is cold right out of the refrigerator. Keep the seasonings and ingredients simple to ensure even cooking and a clean beef flavor.
Set up and heat your grill right before you make the burgers. Also, clean the hot grill grates with a wire brush. Then, rub the grill grates with an oiled paper towel placed between tongs. A clean grill helps with reducing flares. An oiled grill will make it easier to flip the burgers without the meat sticking to the grill grates.
The Best Grilled Burgers Recipe
Prep time: 10 minutes
Cook time: 5 to 10 minutes
Servings: 6 burgers
Ingredients:
For the Burgers
2 pounds 85/15 ground beef, refrigerated
Kosher salt and freshly cracked black pepper
6 slices American, cheddar, or Swiss cheese, if desired
6 Kaiser rolls or hamburger buns, sliced
4 tablespoons butter at room temperature
Toppings
Tomato slices
Sweet onion slices
Romaine lettuce leaves, cut to fit the buns
Dill pickle slices
Tomato ketchup
Mustard and/or mayonnaise
Directions:
1. Prepare your toppings while the ground beef is still in the refrigerator. Arrange the tomatoes, onions, lettuce, and pickles on a platter for serving. Cover with plastic wrap and place in the refrigerator. Place your ketchup, mustard, and mayonnaise in ramekins or small bowls with serving spoons.
2. Prepare your grill by lighting the coals or preheating the gas grill to 450°F. A chimney starter works best for coals. Try to avoid using canned lighter fluid as the flavor of the burgers will be compromised. Set the grill up for direct grilling.
3. Butter both halves of the burger buns. Form the burgers into 6 equal-sized round patties that are 3/4″ to 1" thick. Use your thumb to press a dimple in the center of each patty. Place these on a platter. Have your cheese slices ready.
4. Place the burgers on the grill and cook for approximately 3 minutes per side. Do not be tempted to press the burger with your spatula as this will release those delicious juices. Check the burgers with a digital meat thermometer. You are looking for an internal temperature of 130°F for medium-rare and 150°F for medium-well. When there is 1 minute of cooking time left, top each burger with cheese and place the buns on the grill buttered side down. Take the toppings out of the refrigerator.
5. Remove the bottom half of the toasted buns to a serving platter or cutting board. Place a burger on each and serve with the toppings, condiments, and tops of the buns on the side.
Grilled burgers are great with potato chips, crunchy cole slaw, corn on the cob, or baked beans.
Find all your Ingredients under One Roof
When shopping for you perfect grilled burger ingredients make one stop at The Butcher Shop. We have everything you will need for the ultimate burger feast. Our beef is sourced from local farms using sustainable practices with natural, free-range, and non-GMO products. Our experienced staff will customize your beef order while you shop the market for fresh breads, cheeses, and vegetables to complete your meal.