Bourbon Glazed Pork Chops: 
Trying a new recipe can be nerve-racking. Often the results are worth the effort. If you find yourself stuck in a meal rut the internet can offer options to spice up your meal. You can also visit our store and get inspired, with ideas like these bourbon glazed pork chops.
For us, the local butcher can share new techniques and flavors that pair best with their cuts of meats.
The Butcher Shop is a locally owned butcher shop in Eagle Point, Oregon, that offers quality locally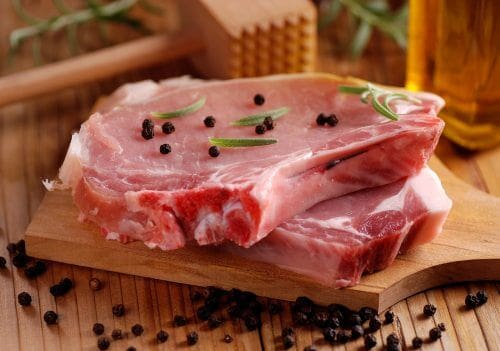 sourced meats, seafood, and vegetables. Our trained butchers have expertise in how best to cook cuts of meat and seafood.
We understand the unique qualities of proteins and vegetables and how to bring out the best flavor without compromising textures and quality. The meat at The Butcher Shop comes from grass-fed animals. That means you get the best taste with little manipulation needed.
Bourbon Glazed Pork Chops Recipe
For this recipe you will need:
1/2 cup firmly packed light brown sugar
3 tablespoons Dijon mustard
2 tablespoons soy sauce
2 tablespoons bourbon
1/2 teaspoon salt
1/4 teaspoon pepper
6(1-inch-thick) bone in pork chops
Directions:
In a shallow dish mix together brown sugar, mustard, soy sauce, bourbon, salt, and pepper. Add the pork chops and chill for 30 minutes, turning halfway through.
Remove pork from the marinade. (Do not discard marinade.)
Over medium-high heat (about 350-400 degrees) grill pork chops with the grill lid closed for 10-12 minutes, turning once. Use a meat thermometer in the thickest part of the pork chop to ensure meat has reached the proper temperature of 160-165 degrees.
Bring reserved marinade to a boil in a small saucepan, cook, stirring occasionally for 2 minutes. Pour over pork chops before serving.
Serve these bourbon glazed pork chops with fresh, in-season grilled vegetables or a side of yams.  Remember you can get the best cuts of pork chops and fresh vegetables from The Butcher Shop.
Ask us for seasonal cooking and vegetable selection tips that will pair perfectly with your bourbon glazed pork chops
Stop by The Butcher Shop today and see what fresh, locally grown produce we have and let us help you select the best grass-fed meat or fresh seafood for your healthy, wholesome meals.