Grilled Artichokes:
With spring comes great local produce from Oregon and California, like artichokes. Prime Artichoke season runs from March-May/Early June and you'll always be able to find fresh Artichokes at the Butcher Shop. Spring also coincides with grilling season so why wouldn't we want to grill delicious artichokes. That is why we would love to share with you this grilled artichokes recipe from chef Matthew.
Cut artichokes in half and remove choke carefully not to cut too deep into the heart.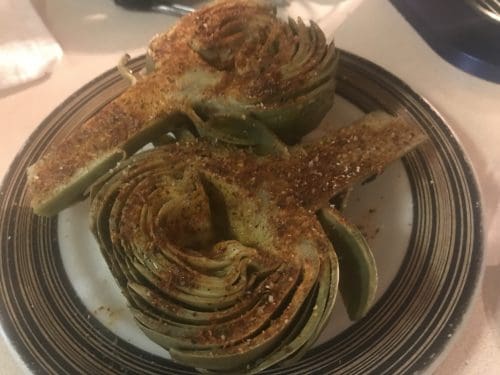 Boil in water with the juice of one lemon for 25 minutes. Remove from water and let rest face up.
Drizzle with oil or use a pan spray if you like. Season with Paul Prudhomme Magic Seasoning and Pappys Garlic Pepper.
Or us your favorite seasonings, there are no boundaries. I also drizzle a tinny amount of sherry vinegar (1/2 oz) to add nice aromatics and it helps the seasoning get in between all the leaves.
After about ten minutes resting and marinating, they are ready for a hot grill with direct heat. Char on the grill for 3-4 min or until the desired level of char is obtained.
Remove from grill and serve with your favorite grilled accompaniments. And remember the entire stem is the same as the heart. Don't wastes the goodness, in fact, start with the heart. I always do
You'll find all the best ingredients for your grill at the Butcher Shop including what you'll need to make grilled artichokes.
From locally sourced proteins to locally sourced fresh produce the Butcher Shop is your one-stop grilling headquarters. Make sure to stop in and visit the store at 1532 S Shasta Ave Eagle Point, or Visit our blog page or our video page for more rat recipes and grilling ideas.
And remember if you don't see what you're looking for, ask…We probably have some in the back, or if we can we will make special orders.