Roasted Rack of Lamb: For home cooks in Oregon, roasted rack of lamb is a meal that is served on the most special of occasions. That means weddings, holidays, birthdays and other milestones. Lamb can be a bit pricey, but in the end, it is so very worth it.
What is the Rack of Lamb? The rack of lamb or carré is right next to the loin. To save time, ask our butcher to chine it, which means remove the tissue between the bones so it's easier to cut the ribs into chops and to shape it into a crown if you'd like. They should also trim off as much of the fat as they can. Two racks can be placed opposite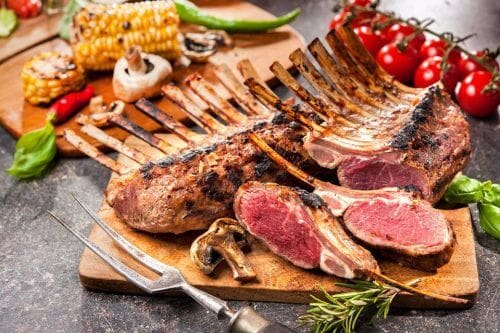 each other with their bones crossing like swords and the fat side out. This is called the Guard of Honor. The crown of lamb, which is made from the same cuts, are two racks joined at both ends. Here's a simple recipe for roast carré:
1 half rack, which is about 2 pounds after it's been chined and trimmed
1 medium shallot, chopped
4 garlic cloves
2 tsp. Dijon mustard
1/4 cup olive oil
1 1/2 cups fresh rosemary, stemmed
Salt and black pepper to taste
Preheat the oven to 425 degrees Fahrenheit.
Place the shallot, garlic, mustard, rosemary and 3 tablespoons of the olive oil in a food processor. Add salt and pepper to taste. Pulse until it forms a paste that is not too fine.
On the stove, heat up a cast iron skillet that's big enough for a half rack. Add the rest of the olive oil, then season the lamb with salt and pepper and put, fat side down, in the skillet. Brown the rack on both sides for about 4 to 5 minutes a side. Take the skillet from the heat, and transfer the lamb to a cutting board.
Spread the paste on the meaty side of the lamb, and put it in a shallow baking pan. Roast until the lamb is medium rare, which is about 30 minutes. An instant-read thermometer should read about 130 degrees Fahrenheit when placed in the thickest part of the meat.
Take the lamb from the oven, and let it rest on a cutting board for 10 minutes. Slice it between the bones and serve.
Sides for Roasted Lamb
Sides for roasted lamb include buttered green beans, cranberry beans or a good bean dish with tomatoes. Other sides to go with roasted lamb are potato casseroles or garlic mashed potatoes. Lamb can also be served with rice and mushrooms or rice and peas, herb-stuffed or mushroom-stuffed tomatoes and of course eggplant. Like the tomatoes, the eggplant can be stuffed with mushrooms or served in a ratatouille.
Visit The Butcher Shop for the best locally raised grass fed Lamb. If you are eager to make this meal and need grass-fed spring lamb, stop into the Butcher Shop at 1532 S Shasta Avenue in Eagle Point. Or give us a call at 541-830-3369 for special orders.