Cheesy Scallop Potatoes
We have 2 holidays approaching that scream for some potato side dishes. St. Patrick's Day is a few days away. Instead of bland boiled potatoes to go with your corned beef, how about some cheesy scallop potatoes?  The same goes for Easter. Potatoes are a great accompaniment to either roasted
leg of lamb
 or fresh 
ham
. Here is a crowd-pleasing recipe for taking potatoes to the next level.
3 Cheese Scallop Potatoes
Prep time: 20 minutes
Cook time: 75 to 90 minutes
Serves: 6
Ingredients:
2 lbs Yukon gold potatoes, washed well
2 TBS butter + extra to coat the baking dish
1 clove garlic, minced
1-1/2 TBS all purpose flour
1/2 tsp dry mustard (optional)
1/4 tsp dried thyme
1/2 tsp sea salt
1/2 tsp cracked black pepper
2 cups half and half
1/3 cup gruyere cheese
1/3 cup Monterey Jack cheese (can substitute mild cheddar)
1/2 cup parmesan cheese divided into 2 portions
1/4 cup breadcrumbs
1 TBS fresh parsley, minced
Extra virgin olive oil (EVOO)
Directions:
1. Preheat the oven to 400˚F. Generously coat a large baking dish with some of the butter. Set aside.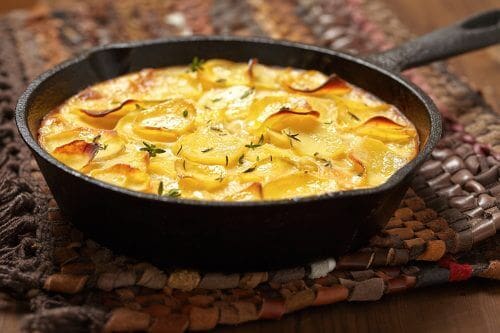 2. Heat the remaining butter in a skillet over medium/high heat. Add the flour and stir until well blended and the flour just starts to turn golden. Add the minced garlic, mustard, and thyme to the pan and warm through for a few minutes. Whisk in the half and half until it just starts to bubble. Add the gruyere, jack, and half the parmesan cheese. Stir and set the sauce aside.
3. Slice the potatoes, with the skin on, as thinly as possible, approximately 1/8". Or, use a mandolin.
4. Evenly layer half of the potatoes in the baking dish. Season with salt and pepper. Pour half of the cheese sauce over the top. Add a second layer of potatoes. Season with salt and pepper. Pour the rest of the cheese sauce on top.
5. In a smaller bowl, combine the remaining parmesan, breadcrumbs, and parsley. Sprinkle this mixture over the top of the potatoes. Drizzle EVOO over the casserole to lightly coat the topping. Cover with aluminum foil and place in the oven for 50 to 60 minutes.
6. Remove the foil and return to the hot oven for an additional 20 to 30 minutes until the top is golden brown. Take the cheesy scallop potatoes out of the oven and low to rest for about 5 minutes before serving.
Pick up your Protein and Produce at One Shop
Remember to get everything you need a day or two in advance from a reputable provider. The Butcher Shop stocks all the meats and vegetables you will need for your holiday feast. Our experienced butchers will be happy to advise you on the perfect cuts of meat and the quantities you will need. They will also let you know when the best time is to pick up your perishables for optimal freshness.