Apple Stuffed Pork Chops: A Sweet and Savory Delight for Your Winter Table
Hand-cut meats are a delight that is making a comeback, and because The Butcher Shop values well-raised stock and ethical animal husbandry practices that ensure their meat is of the highest and healthiest quality, pork products are at their best during the late autumn and winter months.
This traditional and hearty dish of apple stuffed pork chops is a treat when the temperature dips and the wind grows chill. That's why hand-cut, thick chops from The Butcher Shop are ideal, so you and your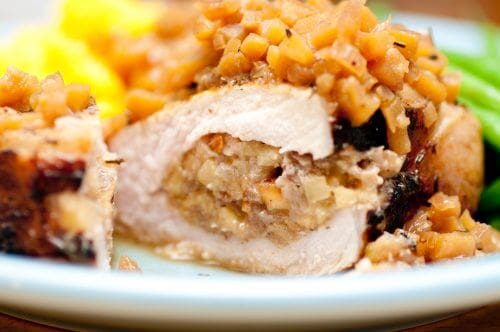 family or guests enjoy every flavorful bite.
Ingredients You'll Need: 
6 thick-cut bone-in pork loin chops (at least 7 ounces each and 1.5 inches thick)
1 tablespoon of chopped onion
1 clove fresh garlic, minced
2 cups of diced apple
3 cups of cubed challah or brioche (any soft bread may be substituted as needed)
1/3 cup of finely chopped celery (include the leaves for extra flavor if desired)
3 teaspoons of finely chopped fresh parsley
1 teaspoon of salt, divided
1 teaspoon of black pepper
1 tablespoon of olive oil
Instructions: 
Over low heat, sauté the onion and garlic until tender in a large skillet with one teaspoon of the oil, then remove it from the heat. In a large bowl, combine onion and garlic with the bread cubes, apples, celery, parsley, and a ¼ teaspoon of salt and pepper each. Mix well.
Next, cut a central pocket in the side of each pork chop, almost to the bone. Sprinkle the remaining salt and pepper inside and out. Fill the pocket loosely with your bread and apple mixture. It should not be packed tightly since this will inhibit cooking.
Adding the remaining oil to your hot pan, brown each chop on both sides. Do this in batches to avoid crowding the meat.
Place chops in a glass baking pan or cast iron dish, cover, and bake them at 350 degrees for 30 minutes. Remove foil or lid and bake for an additional 30 minutes. The internal temperature should reach 145 degrees for perfect pork chops.
Allow the chops to rest at least five minutes before plating.
Suggested Side Dishes for Apple Stuffed Pork Chops:
While we absolutely adore these chops, we know a plate needs side dishes to complete and complement such perfection. With that in mind, we suggest roasted carrots or potatoes made to your specifications. Asparagus, roasted Brussels sprouts, or a salad of mixed greens lightly dressed with your favorite vinaigrette complete a beautiful and nutritious dinner that will please and astonish even the most discerning dinner guest.
Find Ingredients at the Butcher Shop. If you're in the Eagle Point, Oregon area, don't forget to visit the Butcher Shop for all your ingredients, including our tender, lean and juicy locally sourced pork chops. Our number here is 541-830-3369.