How to Make Seafood Stew
Get ready for cold weather with a warm, hearty seafood stew that will make you think of sunny days on the shore. Inspired by recipes from the Fishermen's Wharf in San Francisco and Martha Stewart's take on the classic Italian cioppino, this recipe brings together a medley of flavors that evoke the sea and sunshine in every bite.
A variety of fresh seafood, extra-virgin olive oil and the freshest vegetables and herbs will make these flavors come alive. This recipe serves four. It makes a show-stopping feast for special dinners but is surprisingly fast and easy to make.
Make this Seafood Stew Tonight
Ingredients
1 pound firm white fish such as halibut or red snapper, with skin removed and cut into stew-sized pieces
1 pound shrimp, deveined and peeled
2 dozen clams
Crab legs (optional)
1 cup clam juice
1 15-oz can diced or peeled tomatoes
2 cups white wine
1 cup water
1/2 cup olive oil
1 large onion, chopped
1 dried bay leaf
2 teaspoons thyme
2 teaspoons oregano
2 tablespoons fresh parsley, chopped
Hot sauce or red pepper flakes, to taste
Salt and pepper
Directions
1. Start by cooking the onion in the olive oil until it softens, which will take about three minutes. Add the garlic and cook for another minute. Stir in the bay leaf, thyme, oregano, and hot sauce or pepper.
2. Add the wine, tomatoes, clam juice and water. Bring to a simmer.
3. Add the clams and allow them to simmer until they open. This will take about 10 minutes. If you're using crab legs, put them in at the same time as the clams. Discard any clams that didn't open.
4. Put the fish and shrimp into the pot and allow everything to simmer just until the shrimp turns pink, which should be no longer than three minutes. Discard the bay leaf.
5. Stir in the fresh parsley, season with salt and pepper to taste and serve immediately.
What to Serve with Your Stew
The traditional accompaniment to an aromatic, flavorful stew like this is fresh-baked, crusty bread. You can also try crostini, garlic bread or a fresh loaf of French bread.
Add an Italian-style green salad whipped up from red lettuce, arugula, and romaine leaves, drizzled with balsamic vinegar and olive oil. These simple, delicious flavors complement each other perfectly.
Accompany this fresh seafood feast with a bottle of crisp white wine. Try a Vernaccia, Vermentino or Pecorino to bring out the best in this fragrant stew. You could also try a lighter red blend or a semidry Prosecco.
Shop for the Best Ingredients
When buying ingredients for your stew, don't forget to stop at the Butcher Shop, where you'll find all the ingredients you need to create this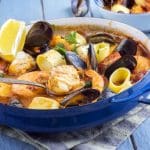 savory, sunny meal. The Butcher Shop carries locally grown organic produce, fresh seafood, condiments, wine, freshly baked bread, beer and everything else you need to create wonderful meals at home.
Fresh seafood is delivered every Monday, Wednesday, and Friday, so come in and see the latest shipment of clams, mussels, swordfish, salmon and other fish. You'll see and taste the difference whenever you cook with the freshest, finest ingredients.