Beer Battered Halibut and Homemade Tartar Sauce
Serves 4 to 6
Tartar Sauce
1 ½ cups mayonnaise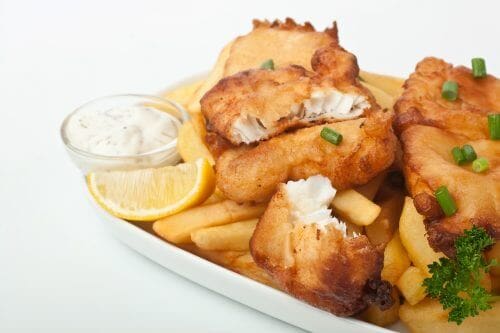 ¼ cup finely chopped dill pickle
2 tablespoons finely chopped onion
(prepared relish may be used in place of pickle and onion if you happen to have some.)
Beer Batter
1 ½ cups all-purpose flour
½ teaspoon salt
1 teaspoon baking powder
½ teaspoon of paprika
1 (12 oz) pilsner or ale style beer
2 teaspoons malt vinegar (optional)
Fish
Vegetable or peanut oil for frying
1 ½ lbs of skinless and deboned halibut fillets, cut into 2-inch strips
1 cup of all-purpose flour for dusting
Salt and pepper
Chips
3 russet potatoes, scrubbed and cut into ½ inch strips (peel optional)
1 cup vegetable oil or peanut oil
Salt to taste
1 large lemon, cut into 6 wedges
Directions:
Mix together the mayonnaise, dill pickle and onion in a serving bowl. Set aside.
In a medium bowl, stir together 2 cups of flour, salt, baking powder and paprika. Use a fork or small whisk to gradually stir in the beer and vinegar. It's going to foam up – just stir it into submission. The batter should be thinner than pancake batter. Add a little water if it is too thick. You can do this later if you decide it is too thick once the frying starts too. Set aside.
Preheat the oven to 400 degrees F. Line two baking sheets with aluminum foil or parchment paper and coat with cooking spray. Let the baking sheets preheat in the oven, it will help keep the fries from sticking.
Rinse the raw fries to remove some of the starch from the outside and allow to dry. A salad spinner works great for drying fries. This part can be done ahead of time. Toss the fries with the oil in a plastic bag or large bowl. Arrange in a single layer on the prepared baking sheets.
Bake fries in the preheated oven for about 20 minutes, turning once halfway through. Fries should be golden brown and tender.
Heat ½ inch of oil in a large, preferably cast-iron, skillet over medium-high heat. If using a deep-fryer, heat the oil to 375 degrees F. Drip a drop of batter into the oil to make sure it is sizzling hot before adding fish.
Season the fish pieces with a little salt and pepper. Give each piece of fish a light dusting of flour, then dip into the beer batter until coated. Shake off excess batter and place into the sizzling hot oil one at a time so the temperature stays hot. Fry in batches, if needed, to avoid over-crowding. That can make the batter soggy. Fry for about 2 minutes on each side, or until light golden brown. Remove to a paper towel-lined tray to cool or a cooling rack set over paper towels.
Serve fish and chips with tartar sauce and lemon wedges.