Grilling meats is an art form that takes some time to get right. Here are some basic tips and recipes to get you started. Follow these simple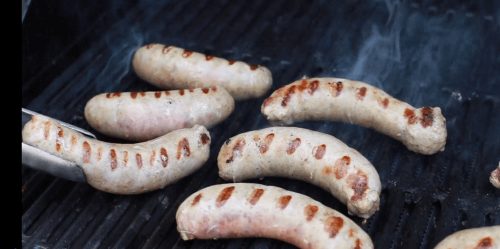 guidelines and you will be well on your way to being called the bratwurst master around your household.
Tip # 1 Do Not Prick the Sausage Casing
It may seem like a good idea, but pricking the casing of the brat results in a dry and overcooked meat. Let the juices stay inside and mingle.
Tip # 2 Grill Over Medium Heat for 18 to 25 Minutes
If you've got uncooked bratwursts, grilling them over medium heat on the grill is the best temperature to cook them over. You'll know they're done when there is no more pink in the middle of the sausage or when the thermometer reads 160 degrees.
Tip # 3 Don't Buy Cheap Brats
Getting cheap, generic quality brats is like eating a tootsie roll and calling it chocolate. It's just not the same thing. Treat you and your guests to only the best brats and buy them from The Butcher Shop. Locally sourced and full of spicy flavors, your taste buds will thank you for the extra few dollars spent.
Tip # 4 Don't Buy Pre-Cooked Bratwursts
Although it's tempting to cut down some grill time, pre-cooked bratwursts never have the same full flavor as uncooked ones freshly grilled. Most will also have an artificial smoke flavor added to them that does an injustice to the art of the grill.
Tip # 5 Brush the Grill With Oil
Coating the grill in oil will prevent the brats from sticking to the grates. Don't apply too much or else you might get unwanted billows of smoke. Use oils with a high smoking point such as canola, peanut, or sunflower oil.
Tip #6 Poach Your Brats in Beer
One way to ensure a flavorful and juicy bratwurst is to simmer it in some beer after you cook it on the grill. Follow the recipe below for a perfect boozy brat.
Grilled Brats n' Beer
Ingredients
3 cans of beer (lager or whatever you desire)
1/2 stick of butter
1 onion, thinly sliced
Salt and pepper
10 bratwursts
Directions
While your brats are chillin' and grillin', mix the other ingredients in a foil pan and throw them on the grill over indirect heat. Once your brats are cooked thoroughly, throw them in the simmering pot of delicious buttery beer and let them sit for at least ten minutes. Just be sure they are sitting over indirect heat so they don't overcook. If you've got time, let them sit for half an hour for an extra flavorful kick.
For the best meal, get your ingredients at The Butcher Shop. They have a variety of flavors of homemade brats to choose from. Always fresh and flavorful.