Fajitas
Fajitas are not only for warming up cold winter nights but are great any time of the year. They get their name from the strips of beef used to make them: the word "faja" is Spanish for the strip. Other ingredients can include chipotles in adobo sauce, cilantro, bell peppers, and tortillas. Here are some of the ingredients:
Skirt steak
The lean piece of muscle from the flank of the cow is the skirt steak. The flank is the underside of the cow between the rib and the thigh bone.
Cilantro
There are folks who either hate or love this herb, which is also called Chinese parsley. People who hate it say it tastes like soap, but it is a staple of both Mexican and Asian cuisine. All parts of the plant can be eaten, so don't throw out the stems or even the flowers if the plant has bolted.
Chipotle in Adobo Sauce
Chipotles are jalapeño peppers that have been allowed to turn red and smoked. They're often found in cans with adobo sauce, which is made from paprika, salt, garlic, oregano, and vinegar.
Tortillas
This unleavened bread can be made from corn or wheat flour. They can be found in any supermarket, but they are easy to make, and cooks often make their own.
Now, for the recipe: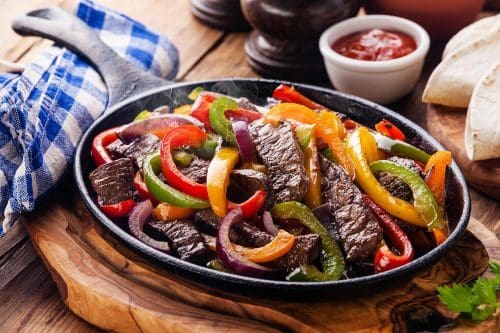 Mojo Sauce
The juice of one orange
The juice of two limes
2 garlic cloves, chopped
2 chipotle peppers in adobo sauce
3 tbs. of chopped cilantro leaves. They need to be fresh, not dried.
1 tsp. ground cumin
1 tsp. salt
4 tbs. good quality olive oil
The Rest
2 1/4 pounds of
skirt steak
2 red bell peppers, cored, seeded and sliced thin
1 large onion, sliced thin
12 tortillas, kept warm
Guacamole
Salsa, homemade or store-bought
Salt and pepper to taste
Find all these scrumptious ingredients for your special fajitas at the Butcher Shop on South Shasta Avenue in Eagle Point.
Instructions:
Place the mojo ingredients in a blender, and blend until smooth. Then, place in a zip-loc bag, and add the skirt steak. Refrigerate for at least two and no more than four hours. After the beef has marinated, take it out of the bag. Heat the grill or a grill pan, then lightly oil. Salt and pepper the beef, then grill it over medium-high heat for about 4 minutes a side.
When done, put it on a cutting board to rest for about 7 minutes. While the meat's resting, toss the onions and bell peppers with the lime juice and olive oil. Grill them until they are tender and deliciously caramelized. When the meat has rested, slice it on the diagonal.
Heat a skillet over high heat, and warm up the tortillas. Let them cook for about 30 seconds a side then wrap them in clean towels to keep them warm. Slather some Guacamole on a tortilla, and top with steak strips, peppers, onions, and salsa. Roll up and close.
Serve your fajitas with shredded cheddar or Monterey Jack cheese or sour cream or both.
Enjoy!