With Valentine's Day around the corner, maybe you want to impress your honey by whipping up a steak dinner. But where do you start? Where can you find the best quality food items in one place?
At The Butcher's Shop in Eagle Point, shopping for your ingredients and choosing cuts of meat is easy, thanks to our friendly, knowledgeable staff. We are an old-fashioned shop that offers the highest quality produce, local, grass-fed meat, and fresh seafood and baked goods. With our help, you don't have to be a professional chef to create a meal that they'll be asking for all year around!
Sweetheart Ribeye Steak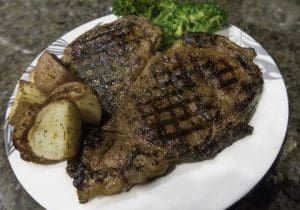 To make a meal that's unforgettable, we're going to focus on cooking and dressing up your ribeye. Just follow this simple, decadent recipe (that will look like you spent hours in the kitchen):
Sweetheart Steak with Chocolate Sauce
A Sweetheart Steak is a ribeye steak that is specially cut to resemble a heart. Ask your butcher to do this.
Prep: 5 minutes (active), 20 minutes (inactive)
Cook: 15 minutes
Level: Easy
Ingredients
2 Rib-eye steaks (fresh or thawed), cut into a heart
2 tbsp. salt
2 tbsp. fresh cracked paper
2 tbsp. Canola or veggie oil
8 oz. raw, dark chocolate (not baking chocolate)
1 cup heavy cream
1 oz. butter
1 tsp. chili powder
Splash of red wine (optional)
Equipment
Cast iron or oven-safe skillet
Long tongs
Oven mitts
Pastry brush
Heavy saucepan
Spoon (wooden or metal)
Steak
Set oven temperature to 500 degrees and place empty skillet on oven rack to heat with oven
Open the package containing the steak and blot steak dry with a paper towel. Allow the steak to sit on counter to come to room temperature.
Once it's at room temp, drizzle the oil over the steak and brush evenly on the surfaces and sides, using a pastry brush or your fingers.
Sprinkle salt and pepper on both sides.
Turn a stove top burner to high heat. Move the hot skillet from the oven to the burner, using oven mitts.
Sear the steak for thirty seconds on each side.
Carefully, using oven mitts, put the skillet of steaks in the oven. Close the oven door and cook for two minutes. Flip the steak with the tongs and cook the other side for two minutes. Your steak will be medium rare. (Note: Add an additional two minutes of cook time to each side for a medium steak).
When the steak is cooked to your satisfaction, take it out of the oven and transfer it to a large cutting board. Tent loosely with foil and allow the steak to rest for five minutes. Slice and serve with sauce.
Sauce
Combine chocolate, cream, butter, and chili in a heavy saucepan.
Add a splash of red wine if desired.
Cook over low heat until chocolate is melted and texture is smooth, stirring occasionally.
Serve warm over steak.
Craving More? Get the Scoop on Chicken Dumplings (and Other Recipes!)
Want to know more about The Butcher Shop or how to make more mouth-watering recipes your family will love?