We offer a full line of specials for your Holiday meals! All our food is limited quantity, locally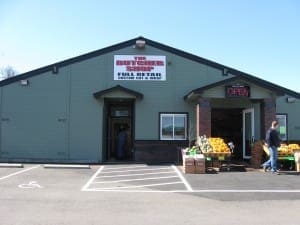 grown.  Don't see what you want, ask us.  Don't forget gift cards and the best local jerky for stocking stuffers.
This year, we are pleased to offer:
Prime

//prime rib, yes not just prime rib, but

prime

//prime rib (very limited $14.95 a lb.)
Fresh, locally grown, free range turkeys
Organic free range turkeys
Turkey breast – smoked OR fresh
Locally grown, free range ducks
Turducken
Old-fashioned, dry cured hams – bone in and boneless
Locally grown rack of lamb
Prime rib
Aged prime rib
Beef tenderloin (filet mignon)
Buffalo tenderloin
Pork crown roast
Choice
Prime
Smoked Game Hen's (new)
NEW ITEM: Dry aged 60 days
NEW ITEM: Fresh LOCAL pheasant! (only 15 available, so reserve early!)
We will begin taking Holiday orders on December 1 – all orders will be filled on a first come, first served basis.  To place your order after December 1, call 541-830-3369.
PLEASE!! Be understanding that when you order a locally grown turkey, sizes vary. If you are ordering a 10-pound bird, you might get a 12 pound bird instead. We match sizes as closely as we can, but we only have 20 local birds for Christmas — the big store chains have about 1 million to choose from, so our size options are more limited, but what you lose in control of the exact size you make up for with quality and taste.