Have you tried ham hocks yet? Ham hocks are a flavorful and versatile ingredient in cooking, especially in Southern and European cuisines. They are the joint or shank portion of a pig's leg, located just above the ankle or hock. The cut is filled with flavor but contains a large amount of collagen. Because of that, this cut should be cooked low and slow to make it tender and delicious. Ham hocks are typically smoked or cured and are known for their rich, smoky, and meaty flavor. They can be used in various culinary applications, adding depth and complexity to dishes. Some common ways people prepare this cut include: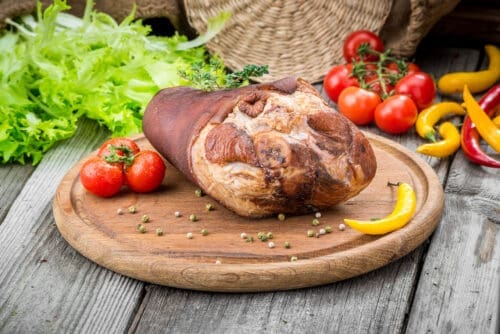 1. Soups and Stews:  Ham hocks infuse the broth with their smoky essence and render their collagen-rich meat into the liquid, creating a hearty and flavorful base. Split pea soup, bean soup, and collard greens are popular choices.
2. Beans and Legumes: Ham hocks are a classic addition to dishes like black-eyed peas, lentils, and pinto beans. They provide not only flavor but also a satisfying meatiness that complements the beans.
3. Greens: In Southern cuisine, they are often added to cooked greens such as collard greens, turnip greens, and mustard greens. The slow simmering process helps tenderize the greens while imparting a smoky taste.
4. Gravies and Sauces: Ham hocks can be used to make flavorful gravies and sauces. Simmering them with other ingredients can produce a tasty sauce that can be served over vegetables, meats, or potatoes.
5. Braised Dishes: You can braise ham hocks, which involves searing them and then slow-cooking them with liquids like broth or wine until they become tender and succulent. This method works well for standalone dishes.
6. Flavoring Rice and Beans: When cooking rice and beans, particularly in Latin American and Caribbean cuisines, add them to the pot to infuse the entire dish with their smoky flavor.
7. Seasoning Collagen-rich Dishes: This cut contains a lot of collagen, which breaks down during cooking and adds a silky texture to dishes like jambalaya, gumbo, and red beans and rice.
Ingredients for Ham Hocks and Potatoes
About 3 pounds of TBS smoked ham hocks
1 tablespoon whole allspice berries
1 tablespoon whole black peppercorns
2 bay leaves
2 teaspoons yellow mustard seeds
1 teaspoon red pepper flakes
2 pounds baby potatoes, scrubbed and halved
1 green onion, minced
5 tablespoons apple cider vinegar
3 tablespoons olive oil
1 teaspoon honey
1 cup sauerkraut
salt and pepper
German mustard
Step 1: Prepare the ham hocks.
Put the meat, allspice, peppercorns, bay leaves, mustard seeds, and red pepper flakes into a medium-sized pot. Add water to cover the meat. Heat until the water comes to a full boil. Reduce to a simmer, cover the pot, and allow it to cook for an hour.
Step 2: Prepare the potatoes and sauerkraut.
About 30 minutes after the ham hocks begin to simmer, begin preparing the potatoes and sauerkraut.
Add the potatoes to a large pot and fill with cold water. Bring the water to a boil, and then reduce heat to a simmer. Cover the pot, and cook for 5 to 10 minutes until the potatoes are tender to a fork. Reserve 1/4 cup of the water and drain the rest.
Put the potatoes into a large mixing bowl and cover with a towel or foil.
Saute the shallots in a medium skillet with one tablespoon of olive oil over medium heat until softened.
Add the vinegar, the remaining olive oil, and the honey and heat to a boil.
Pour the hot liquid over the potatoes and toss until well coated.
Mix in the sauerkraut.
Season with salt and pepper if needed.
Step 3: Serve dinner.
As soon as the meat has finished simmering, remove it from the pot and pat it dry. Remove it from the bone and cut it as desired. Serve immediately with the potatoes, sauerkraut, and German mustard.
The Butcher Shop is Your Source for Locally-Raised Meats
Why purchase meat and produce from a grocery store that comes from who knows where? We have such excellent, fresh meat and produce available to us locally! The Butcher Shop is your one-stop-shop for locally sourced meats and produce from farms right here in Southern Oregon. At TBS, you'll find the perfect cut of meat for your meal, plus fresh-baked loaves of bread, fresh fruit and vegetables, local wine and beers, and even quality food specifically for your canine.  Stop by today or call ahead to pre-order your ingredients.