Sweet potatoes are healthy and delicious; when you stuff them with our ground beef-based filling, they transform into a mouth-watering dinner your entire family will love. Our recipe for stuffed sweet potatoes combines the natural sweetness of baked sweet potatoes, the savory richness of seasoned beef, and the vibrant freshness of green onions. Look no further if you're in the mood for a wholesome and hearty dish that's as impressive on the table as it is on your taste buds.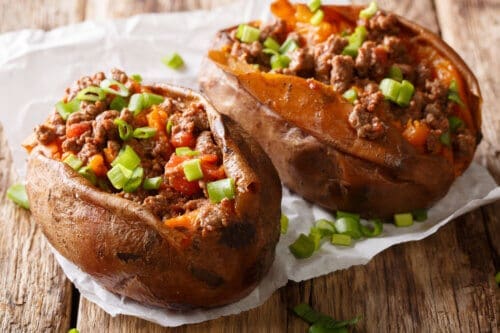 Sweet potatoes offer many health benefits to make them a nutritional powerhouse. Packed with vitamins and minerals like vitamin A, vitamin C, and potassium, sweet potatoes contribute to a robust immune system and optimal heart health. Their high fiber content aids digestion and promotes a feeling of fullness, making them a valuable asset for weight management. Moreover, sweet potatoes boast a low glycemic index, which means they cause gradual and steady increases in blood sugar levels, making them suitable for those looking to manage blood sugar levels. Antioxidants like beta-carotene give these tubers their vibrant orange hue and support vision health while potentially reducing the risk of chronic diseases. Whether baked, mashed, or roasted, incorporating sweet potatoes into your diet is an excellent way to savor their delightful taste while reaping their numerous health rewards.
Ingredients for stuffed sweet potatoes:
1 lb TBS ground beef

4

 

medium sweet potatoes

2

 

tablespoon

 

olive oil

1

 

medium onion,

diced

1

 bell pepper

 

diced

4

 

cloves

 

garlic

 

minced

1 14.5-ounce

can of diced tomatoes

 

with juices

Salt and pepper to taste

2

 

tsp

 

dried oregano

2

 

tsp

 

dried basil

1 cup mozzarella cheese, shredded

1 cup cheddar cheese, shredded

4

 

scallions, chopped for garnish
Directions:
Scrub wash the sweet potatoes well. Poke several holes in the potatoes using a fork and then microwave them for 8 to 10 minutes. Flip the potatoes over and microwave them for another 8-10 minutes. The sweet potatoes should be tender when pierced with a fork.
Saute the onions, bell pepper, and garlic in a deep skillet using the olive oil over medium-high heat for about 3 to 5 minutes. The onions should become translucent and the peppers soft.
Add the ground beef, oregano, and basil, and brown the meat with the onions, peppers, and garlic.
Stir in the can of diced tomatoes and add a little salt and pepper. Stir occasionally and cook for about 2 minutes. Add 3/4 cup of each of the cheeses while saving the remainder for toppings.
After the sweet potatoes have cooled a bit, slice them open lengthwise and use a fork to break up the insides. Fill each with the ground beef mixture.
Serve with additional cheese and scallions on top.
Serve the freshest meats and produce from The Butcher Shop.
Why purchase meat and produce from a grocery store that comes from who knows where? We have such excellent, fresh meat and produce available to us locally! The Butcher Shop is your one-stop shop for locally sourced meats and produce from farms right here in Southern Oregon. At TBS, you'll find the perfect cut of meat for your meal, plus fresh-baked loaves of bread, fresh fruit and vegetables, local wine and beers, and even quality food specifically for your canine. Stop by today or call ahead to pre-order your ingredients.