Brunswick stew is a traditional dish that has a rich history deeply rooted in Southern cuisine in the United States. Its origins can be traced back to Brunswick County, Virginia, hence the name. The exact origins of the stew are debated, with various regions claiming their own versions, but it is generally agreed that it emerged in the 19th century.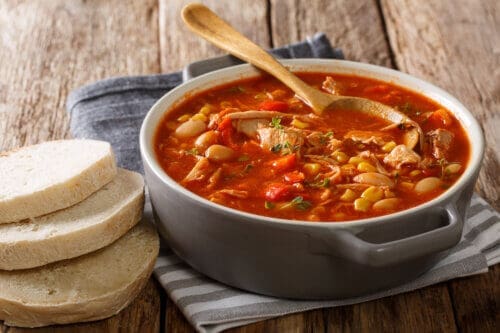 Brunswick stew is known for its hearty and comforting flavors, typically featuring a combination of meat, vegetables, and seasonings. The traditional meat used in Brunswick stew is usually either chicken or pork, though some variations include beef or squirrel. The meat is typically slow-cooked and then shredded or chopped before being combined with a medley of vegetables, such as lima beans, corn, tomatoes, onions, and potatoes. The stew is further enriched with a flavorful broth or tomato-based sauce, often seasoned with spices like paprika, cayenne pepper, and Worcestershire sauce.
This beloved dish has gained popularity beyond its place of origin and is now enjoyed in various parts of the Southern United States, particularly in Virginia, North Carolina, and Georgia. Brunswick stew is a staple at community gatherings, potlucks, barbecues, and outdoor events like fairs and festivals. It is often prepared in large batches, perfect for feeding a crowd and fostering a sense of togetherness and hospitality.
Ingredients for Brunswick Stew:
6 cups TBS pulled pork (or, mix it up with cooked and shredded chicken or brisket)
4 tbsp butter
1 large sweet onion, chopped
5 garlic cloves, finely chopped
2 cups frozen corn
2 cups frozen lima beans
1.5 cups frozen okra
1 14oz can diced tomatoes
4 cups chicken broth
1 cup barbecue sauce
2 tbsp Worcestershire sauce
2 tsp hot sauce
1 tsp ground black pepper
1/2 tsp cayenne pepper
Directions:
It really can't get any easier than this! All you need to do is dump all the ingredients into a crock pot. Mix it all together well. Turn the crock pot on high, put the cover on, and then walk away from it for about 3 hours. When you return, you'll be embraced by the delicious aroma of a hearty Brunswick Stew.
When it comes to serving Brunswick stew, there are a few traditional side dishes that complement its flavors and round out the meal. Cornbread is a classic accompaniment, as its crumbly texture and slightly sweet taste complement the savory stew. Coleslaw, with its refreshing and tangy qualities, provides a nice contrast to the stew's richness. Additionally, collard greens or green beans can be served as a side to add some freshness and vibrant color to the plate.
Find the freshest meats and produce at The Butcher Shop.
Why purchase meat and produce from a grocery store that comes from who knows where? We have such excellent, fresh meat and produce available to us locally!  The Butcher Shop is your one-stop shop for locally sourced meats and produce from farms right here in Southern Oregon. At TBS, you'll find the perfect cut of meat for your meal, plus fresh-baked loaves of bread, fresh fruit and vegetables, local wine and beers, and even quality food specifically for your canine. Stop by today or call ahead to pre-order your ingredients.