Are you ready to take your macaroni and cheese game to the next level? We're excited to share a mouthwatering recipe that combines the creamy, cheesy goodness of classic mac and cheese with tender, flavorful pulled pork. This delectable fusion of two comfort food favorites is perfect for family dinners, potlucks, or simply indulging in a satisfying meal. Prepare to embark on a culinary adventure as we introduce you to the irresistible combination of pulled pork macaroni and cheese, a dish redefining comfort food's meaning.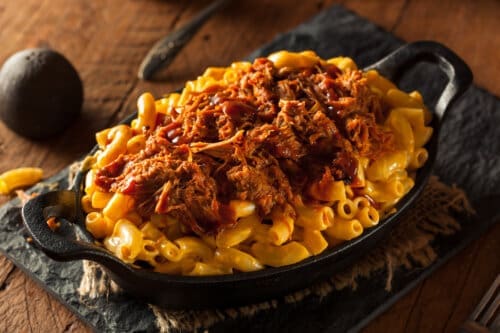 The History of Macaroni and Cheese
Macaroni and cheese, also known as mac and cheese, is a classic comfort food enjoyed for centuries. The history of macaroni and cheese dates back to medieval Europe, where pasta and cheese were commonly eaten together. It is believed that macaroni and cheese was a popular dish among Italian sailors who used dried pasta and cheese as a staple on long voyages.
In the 14th century, the first recorded recipe for macaroni and cheese was written by an Italian chef named Martino da Como. His recipe called for macaroni to be boiled in broth, mixed with grated cheese, and baked until golden brown. The dish became popular in Italy and eventually spread to other parts of Europe.
Thanks to Thomas Jefferson, macaroni and cheese made its way to North America in the late 1700s. Jefferson discovered macaroni and cheese during his travels to Italy and France. He was so impressed with the dish that he brought back a pasta machine and several recipes to the United States.
In the early 1800s, macaroni and cheese became popular in the United States, particularly in the southern regions. It was an inexpensive and filling meal that could be made with simple ingredients, making it a staple for many families.
During World War II, macaroni and cheese became even more popular due to its ease of preparation and the availability of powdered cheese. It was a popular dish among soldiers and civilians alike, and it remains a favorite comfort food in the United States today.
Overall, macaroni and cheese has a rich and diverse history spanning multiple cultures and periods. It is a classic dish that has stood the test of time and continues to be enjoyed by people worldwide.
Preparing a delicious macaroni and cheese dish involves using quality ingredients, the right blend of cheeses, and proper cooking techniques. Here are some tips:
Choose the right pasta: Elbow pasta is the most common, but you can be creative. Choose noodle shapes that will hold onto the sauce, such as shells, corkscrews, rotini, or anything with ridges.
Cook the pasta al dente: Slightly undercook the pasta, as it will continue to cook when baked with the cheese sauce. Cook your pasta in salted water to add flavor.
Use a blend of cheeses: A combination of sharp Cheddar, Gruyere, and Parmesan creates a rich and flavorful sauce. You can also experiment with other cheeses like Fontina, Gouda, or Monterey Jack.
Season the sauce: Add salt, pepper, and a pinch of nutmeg or dry mustard to enhance the flavor of the cheese sauce. Consider adding a dash of dry mustard powder for an extra kick.
Combine pasta and cheese sauce: Gently mix the cooked pasta with the cheese sauce, ensuring that every piece is well-coated.
Bake the dish: Transfer the macaroni and cheese to a baking dish, top with breadcrumbs or more grated cheese, and bake until bubbly and golden brown. Avoid over-baking it. Bake only for the time recommended or until the center is bubbling and you see some golden edges. Cooking it too long will give you a mushy final product.
Let it rest: Allow the macaroni and cheese to rest for a few minutes before serving to let the flavors meld and the dish to set slightly.
Ingredients for Pulled-Pork Macaroni and Cheese
8

 

ounces

of 

uncooked elbow macaroni

¼

 

cup

 

salted butter

3

 

tablespoons

 

all-purpose flour

1 cup heavy cream

1 ½

 

cups whole

 

milk, or more as needed

2

 

cups

 

shredded sharp Cheddar cheese

½

 

cup

 

finely grated Parmesan cheese

salt and ground black pepper to taste (Optional)
Directions
Preheat the oven to 350°F. Grease an 8-inch square baking dish.

Prepare the macaroni: Bring a large pot of salted water to a boil. Add the macaroni and reduce to a simmer, stirring occasionally, until tender yet firm to the bite, about 8 minutes. The noodles should be al dente because they will finish cooking in the oven. Drain the noodles and put them into the baking dish.

While the noodles are simmering, melt 1/4 cup of butter in a medium skillet over low heat. Whisk in flour until the mixture becomes paste-like and light golden brown. This should take about 3 to 5 minutes.

Mix the heavy cream and whole milk in a pourable container. Gradually whisk the combined milk into the flour mixture, and simmer. Turn the heat off. Stir in the shredded Cheddar and finely grated Parmesan cheese—season with salt, pepper, and other spices. After the cheese and milk have combined, turn the stove back to low and cook until the cheese is fully melted and the sauce has thickened for 3 to 5 minutes. If you need, you can add up to 1/2 cup more milk if needed. Pour the cheese sauce over the macaroni and stir until well combined.

Add the roasted pulled pork on top of the casserole and cover with foil.

Bake in the oven for about 30 minutes until the macaroni and cheese are bubbling.
Make preparing dinner easy with roasted pulled pork from The Butcher Shop.
Why purchase meat and produce from a grocery store that comes from who knows where? We have such excellent, fresh meat and produce available to us locally! The Butcher Shop is your one-stop shop for locally sourced meats and produce from farms right here in Southern Oregon. One of our customers' favorites is our low-and-slow roasted pulled pork, available in a variety of delicious flavors:
Natural (Just Smoked)
Salt, Pepper & Garlic
Southwest
Chipotle
BBQ
Apple
At TBS, you'll find the perfect cut of meat for your meal, plus fresh-baked loaves of bread, fresh fruit and vegetables, local wine and beers, and even quality food specifically for your canine. Stop by today or call ahead to pre-order your ingredients.