Looking for a unique and delicious way to use up leftover ham and potatoes from a family dinner celebration? This ham and potato pie recipe is the perfect solution. Not only is it easy to make, but it also provides a versatile meal that can be enjoyed for breakfast, lunch, or dinner.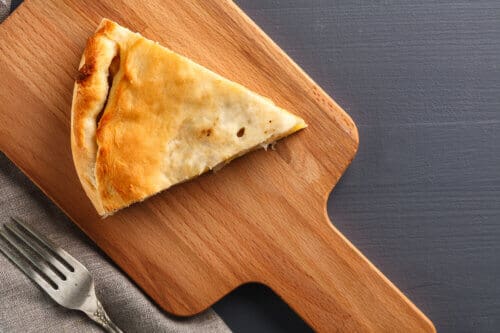 The key to this recipe is using leftover ham and potatoes, which are transformed into a delectable pie filling when combined with a flavorful cheese sauce made from scratch. The addition of green onions and minced garlic adds an extra depth of flavor to the dish.
One of the best things about this ham and potato pie recipe is its simplicity. Using pre-made pie crusts and simple ingredients, you can quickly whip up a delicious and hearty meal that will surely please everyone at the table. And with its versatility, it can be served as a main dish for breakfast, lunch, or dinner.
For breakfast, this ham and potato pie can be served alongside a fresh fruit salad or a cup of coffee for a savory start to your day. Pair it with a crisp green salad or a bowl of soup for lunch. And for dinner, serve it with steamed vegetables or a side of crusty bread.
With its savory flavors and hearty ingredients, this ham and potato pie will surely become a family favorite. So next time you have leftover ham and potatoes, try this recipe and enjoy a delicious and easy meal that is both satisfying and comforting.
Ingredients:
2 1/2

 

cups

leftover TBS

smoked or cooked ham

 

cut into 1/2-inch cubes

3 cups of leftover roasted potatoes, thinly sliced
1/2 cup green onions, sliced
2 tablespoons of minced garlic
1 tablespoon salted butter
1 large egg (for glazing the pie crust)
1 package of pre-made pie crust
For the Cheese Sauce:
2

 

tablespoons

 

butter

3

 

tablespoons

 

all-purpose flour

1 1/2

 

cups

 

whole milk

2

 

cups

 

extra sharp cheddar cheese,

 

grated

1

 

teaspoon

 

ground black pepper

1/2

 

teaspoon

 

salt

1/4

 

teaspoon

 

smoked paprika
Directions for ham and potato pie:
Prepare the pie crust according to the directions. Be aware this may require you to take the crusts out of the refrigerator several hours before using them. Check the directions early. Preheat the oven to 400F.
Melt the butter in a small frying pan over medium heat until it bubbles. Saute the green onion until it softens. Next, add the minced garlic and saute until fragrant. Put the onion and garlic into a small bowl and set aside.
Before beginning the cheese sauce, measure the butter, flour, milk, and cheese and set aside.
Melt the butter in a saucepan and heat over medium until it bubbles. Add the flour and continuously whisk it until it turns light brown and smells toasty. Pour in a third of the milk and whisk until combined. Pour in the remaining milk and whisk it until combined.
Continue to stir the sauce over medium heat until it thickens. If it gets too thick, you can always add a little more milk to even it out.
Add the grated cheese and whisk it until the cheese is fully melted.
Add the salt, pepper, and smoked paprika. Stir well.
Continue to heat the sauce on low, stirring occasionally.
Place one of the pie crusts in a 9-inch deep dish pie pan.
Spread half of the sliced potatoes into the pie pan and top it with half of the ham. Add all of the onion and garlic mixture. Pour the cheese sauce evenly over the top. Next, add another layer of the remaining ham and a layer of the rest of the potatoes on top.
Put the second pie crust on the top, crimp the sides, and trim off the excess. Use a fork to poke holes throughout the crust to prevent cracking.
Beat the egg in a bowl until blended, and brush the top of the crust with the egg.
Bake at 400F for 35 to 40 minutes until well browned. Allow it to cool for at least 15 minutes before serving.
Looking for the best place to buy local meat and produce?
Why purchase meat and produce from a grocery store that comes from who knows where? We have such excellent, fresh meat and produce available to us locally! The Butcher Shop is your one-stop-shop for locally sourced meats and produce from farms right here in Southern Oregon. At TBS, you'll find the perfect cut of meat for your meal, plus fresh-baked loaves of bread, fresh fruit and vegetables, local wine and beers, and even quality food specifically for your canine. Stop by today or call ahead to pre-order your ingredients.