Baked buttermilk chicken is a delicious, savory dish perfect for any occasion. It is a relatively simple dish to make, with only a handful of ingredients, and is sure to please any palate. With a few minutes of prep in the morning, you can prepare a delicious dinner with very little effort for your family in the evening. Beware, this simple recipe for baked buttermilk chicken may quickly become one of your family favorites.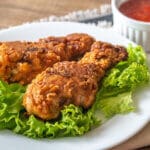 The dish starts with chicken cuts (wings, breasts, thighs, or legs), first marinated in a mixture of buttermilk, garlic, paprika, and salt and pepper. The buttermilk provides a creamy and tangy flavor, while the garlic and paprika give it a bit of a kick. The chicken is then baked in the oven until golden brown and cooked throughout. The result is a dish that is packed with flavor and incredibly moist.
Baked buttermilk chicken is incredibly versatile and can be served with various accompaniments. It can be served over a bed of steamed vegetables or a salad for a light meal. It can also be served as part of a larger meal alongside a hearty side such as mashed potatoes or roasted vegetables. Additionally, it can be served as an appetizer or finger food, making it a great option for get–togethers or parties. This dish is also an excellent source of protein, as well as a great source of vitamins and minerals. 
Why use buttermilk as a marinade for chicken?
Using buttermilk as a marinade for chicken works because the acidity in buttermilk helps break down the proteins in the chicken. This tenderizes the chicken and makes it more flavorful. Additionally, the fat in the buttermilk helps to keep the chicken moist and juicy when cooked and infuses the chicken with a rich, tangy flavor.
Ingredients:
4 pounds of TBS chicken, cut into parts (skin on or off–your choice)
A 1-ounce envelope of ranch seasoning mix
2 cups of buttermilk
An 8.5 ounce boxed corn muffin mix
1 teaspoon of salt
1 teaspoon of pepper
1 teaspoon of paprika
1/4 teaspoon of cayenne
Directions:
Marinade the chicken in the morning. Mix the ranch seasoning and the buttermilk in a pourable container. Add the buttermilk mixture and chicken to a large zipper storage bag. Squish the bag to make sure the chicken is coated completely. Place the bag in the refrigerator for the day (or at least an hour or two.)
When you're ready to make dinner, preheat the oven to 425°F.
Coat a large baking sheet with cooking spray and set aside.
Make the coating. Combine the corn muffin mix, salt, pepper, paprika, and cayenne in a shallow baking dish.
Take the chicken from the refrigerator. As you remove the chicken from the bag, shake each piece to remove as much excess buttermilk as possible. If there's too much buttermilk on the chicken, then the coating won't stick.
Put one piece at a time into the coating. Roll it around to get the coating on all parts of the chicken. Place the coated piece onto the baking sheet.
When all the pieces are on the baking sheet, spray a light amount of cooking spray onto the pieces.
Bake for 35 to 40 minutes or until the chicken is cooked thoroughly (check the internal temperature of the thickest cuts with a meat thermometer.) If the chicken is browning too much, you can add a sheet of foil on the top to keep it cooking without further browning.
Get all the ingredients for a healthy meal at The Butcher Shop:
Why purchase meat and produce from a grocery store that comes from who knows where?  We have such excellent, fresh meat and produce available to us locally!  The Butcher Shop is your one-stop-shop for locally sourced meats and produce from farms right here in Southern Oregon.  At TBS, you'll find the perfect cut of meat for your meal, plus fresh-baked loaves of bread, fresh fruit and vegetables, local wine and beers, and even quality food specifically for your canine.  Stop by today or call ahead to pre-order your ingredients.