Sometimes it's nice to just pull things out of your refrigerator to make an easy meal for the family.  Our Mexican Beef Skillet is just the thing for a quick meal everyone will love.  It's easy enough for kids to get involved in meal preparation, too!  You'll likely find most of these items already in your refrigerator or pantry.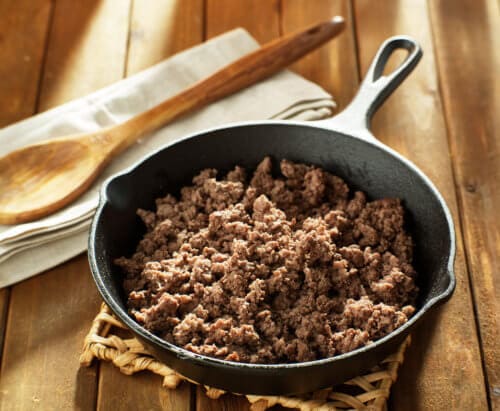 You can also alter this recipe to fit your preferences in many different ways.  First of all, pick your favorite ground meat.  If your family enjoys ground beef, go with 85% lean for the best flavor.  However, you can also choose ground chicken, turkey, pork, or even cubed beef sirloin steak.  If you don't have chicken broth, use water instead.  If you don't want the rice, you can skip it entirely.  Want a different kind of cheese?  Go for it.  You can be really creative!
Ingredients for Mexican Beef Skillet:
1 pound TBS ground beef

2 tablespoons olive oil

1 sweet onion, chopped

3 bell peppers, any color, diced

1 packet of taco seasoning

1 15-ounce can of black beans

1 10-ounce can of Rotel diced tomatoes with chiles

1 cup white rice, cooked

1 carton of chicken broth

1 cup grated/shredded Mexican-blend cheese

½ cup green onion, sliced, optional for garnishing

1 cup of sour cream, optional, as desired by guests

½ head of lettuce, shredded, as desired by guests

A bag of your favorite nacho chips
Directions:
Cook the white rice with the chicken broth according to the package directions.  (Use broth instead of water if you have it.  Otherwise, just use water.)

Add the olive oil to a heated skillet over medium and brown the ground beef.  Stir occasionally to break up the clumps.  When it starts to turn color, add and saute the onions.  When the onions turn translucent, add the diced peppers and cook for another five minutes.

When the peppers begin to turn soft, it's time to add the taco seasoning.  Stir to mix well.

Next, add the black beans, diced tomatoes, and cooked rice.  Mix together and cook until everything is heated.

Remove the skillet from the stove and place it on a heatproof board.  Add the shredded cheese on the top and allow it to melt.  If your skillet is oven-proof, you could set it under the broiler for 2 minutes until the cheese begins to melt.

Serve in the skillet with green onions, shredded lettuce, chips, and sour cream on the side.  
Stop by The Butcher Shop for the Freshest Meats and Local Produce
Why purchase meat and produce from a grocery store that comes from who knows where?  We have such excellent, fresh meat and produce available to us locally!  The Butcher Shop is your one-stop-shop for locally sourced meats and produce from farms right here in Southern Oregon.  At TBS, you'll find the perfect cut of meat for your meal, plus fresh-baked loaves of bread, fresh fruit and vegetables, local wine and beers, and even quality food specifically for your canine.  Stop by today or call ahead to pre-order your ingredients.