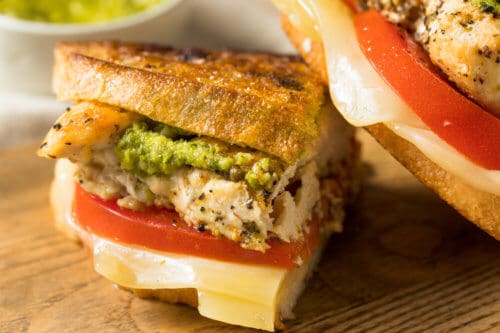 In the summer heat, light and quick meals make dinner preparation easy.  It takes very little time to grill up a few chicken breasts and whip together some homemade pesto to create this delicious grilled chicken and pesto sandwich.  Add a fresh salad or toss in a few potato chips, and you're ready for dinner on the deck.
Tips for making homemade pesto:
Sure, you can purchase good pesto from your favorite grocer, but it's simple to make pesto at home.  If you grow basil in your garden, this is a great way to enjoy your backyard herb and delight your dinner guests at the same time.  
Ingredients for homemade pesto:
2 cups fresh basil leaves

½ cup parmesan cheese, freshly grated

½ cup olive oil

⅓ cup pine nuts

Juice from ½ a lemon

3 cloves garlic, minced (or 1 tablespoon minced garlic)

¼ teaspoon salt

⅛ teaspoon pepper
Directions:
Use a food processor to blend all the ingredients as described below.

Add the basil leaves and pine nuts to the processor and pulse several times until broken up well.

Add the lemon juice, garlic, and parmesan and pulse several times.  Scrape the sides with a spatula.

Add the lid and slowly drizzle in the olive oil while running the processor.  Pouring it slowly will help it emulsify, so it doesn't separate.  You can alter the amount of oil based on the consistency of the pesto.

Scoop the pesto into a bowl, and then stir in the salt and pepper.

You can make the pesto ahead of time and keep it in the refrigerator.  If so, cover with plastic wrap and push the wrap onto the surface of the pesto to remove air bubbles.  This will help keep it from turning brown.
Now to make the grilled chicken and homemade pesto sandwich!
Ingredients:
2 TBS large skinless, boneless chicken breasts.  Slice these in half lengthwise to make 4 pieces.

Olive oil

Salt and pepper.

1 teaspoon Italian seasoning

½ teaspoon lemon zest

1 tablespoon lemon juice

2 cloves garlic, minced (or ½ tablespoon minced garlic)

1 cup smoked mozzarella cheese, grated (can use regular if you don't have smoked)

Your choice of bread for buns:  ciabatta, focaccia, or rustic rolls work great!

4 tablespoons julienned sun-dried tomatoes packed in oil  (or sliced fresh tomatoes if you prefer)

1 cup arugula leaves (or spinach, if you prefer)
Directions:
Create a marinade with 2 tablespoons of olive oil, ¼ teaspoon salt, ⅛ teaspoon pepper, Italian seasoning, lemon zest and juice, and garlic.  Add the chicken, and marinate in the refrigerator for at least 20 minutes.

Prepare your pesto if you haven't already.  

Heat the grill to medium-high.  Grill the chicken for about 3 minutes per side until cooked through and golden.  Remove from the grill and allow the chicken to rest for 10 minutes.

Preheat your broiler.

Line a baking sheet with foil.  Place the grilled chicken breasts onto the baking sheet and cover each with mozzarella cheese.  Broil for 3 to 5 minutes until the cheese is melted.

Assemble the grilled chicken sandwiches on the buns.  Add a big scoop of pesto sauce to the top and bottom of the bread.  Stack in the grilled chicken and cheese, add some tomatoes and top with the arugula.  Slice the sandwich in half and serve.
Stop by The Butcher Shop for the Freshest Meats and Local Produce
Why purchase meat and produce from a grocery store that comes from who knows where?  We have such excellent, fresh meat and produce available to us locally!  The Butcher Shop is your one-stop-shop for locally sourced meats and produce from farms right here in Southern Oregon.  At TBS, you'll find the perfect cut of meat for your meal, plus fresh-baked loaves of bread, fresh fruit and vegetables, local wine and beers, and even quality food specifically for your canine.  Stop by today or call ahead to pre-order your ingredients.