A Jackpot Casserole is a super straightforward casserole that you can make at a moment's notice. It consists of ingredients typically every household has on hand and utilizes them to create a dish you can make for a last-minute party, dinner for your kids, for a spur-of-the-moment date night, or just when you don't want to worry about cooking. 
This casserole has been made for decades. Many of you may know it by different names with slightly varying ingredients. This recipe uses ingredients that are commonly found in a pantry, but if you feel like adding a little something here and there, feel free to!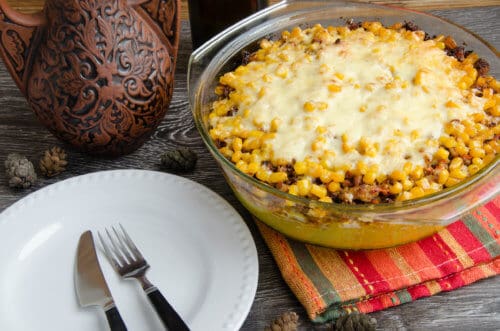 Ingredients 
1 lb. TBS ground beef

1 onion, diced

1 bell pepper, chopped

1 14.5 oz can whole kernel corn, drained

½ pkg. curly noodles, partly cooked & drained

1 large can of tomato sauce

1 c. yellow cheese, grated
Instructions
Put the ground beef

into a pan and cook it until browned.

Boil the noodles

until partially cooked, but still firm–al dente style. (While curly noodles are noted, feel free to use any thick noodle you have on hand.)

Mix the ground beef,

onion, bell peppers, corn, noodles, and tomato sauce together in a large bowl. Then place the mixture into a large casserole baking dish. 

Sprinkle the cheese

on top and cover with foil.

Bake

30-40 minutes at 375°. 

Serve!
Stop by The Butcher Shop for the Freshest Meats and Local Produce
Why purchase meat and produce from a grocery store that comes from who knows where? We have such excellent, fresh meat and produce available to us locally! The Butcher Shop is your one-stop shop for locally sourced meats and produce from farms right here in Southern Oregon. At TBS, you'll find the perfect cut of meat for your meal, plus fresh-baked loaves of bread, fresh fruit and vegetables, local wine and beers, and even quality food specifically for your canine. Stop by today or call ahead to pre-order your ingredients.