The Feast of the Seven Fishes may sound intimidating, but there's plenty of flexibility and freedom to allow anyone to participate in this traditional Christmas Eve dinner.  The Feast has its origins in southern Italy as a dinner known as "La Vigilia" ("The Vigil") and represents the waiting of the birth of Christ.  The meal consists of seven fishes since the number seven has the most significant of all numbers throughout the Bible.
A true Feast of Seven Fishes will contain selections that have significant meaning for the host, although every host may select different options.  Some of the most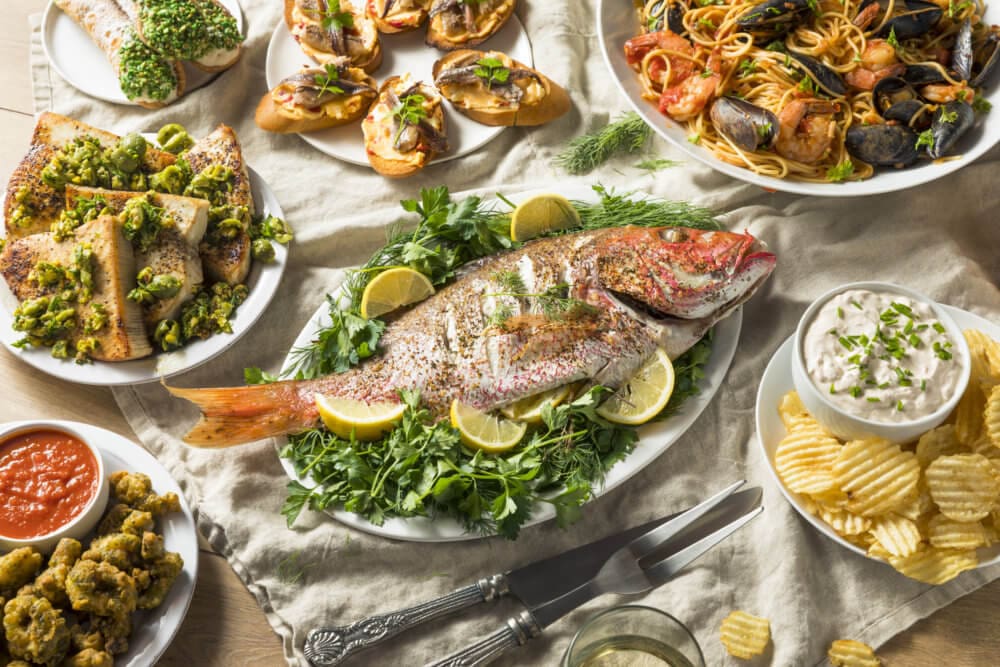 popular are:
Salted cod, illustrating we are the salt of the Earth,
Shellfish like mussels and clams (dug from the coastline) represent that we are grounded in the faith of the Lord,
Calamari and octopus (with tentacles), illustrating God's love
Whiting (found in all seven seas), signifying that God is everywhere
Shrimp (the most abundant seafood in the oceans) represents abundance
Smelts (an inexpensive fish), illustrating the Lord is humble
Lobster (one of the oldest known kinds of seafood), showing the long history of mankind
Hosts prepare these fish in various ways.  For example, the lobster might be served as a bisque or the shellfish with pasta.  Any recipe, including seafood, will work as part of this meal.  Because of this, anyone who loves seafood can do this!  None of the selections must be complicated to prepare.
A traditional Feast of the Seven Fishes is served on Christmas Eve following attendance at Midnight Mass.  Of course, there's also dessert–generally a sweet bread like panettone or pandora, or biscotti.
Recipe for Shrimp Scampi
Shrimp scampi is a delicious and easy-to-prepare meal, although the main ingredient is slightly misleading.  Here's a bit of trivia for you to share with your guests at the Feast of the Seven Fishes.  Shrimp scampi isn't really scampi at all.  In the United States, we use the term "shrimp scampi" to describe a dish made with large shrimp cooked with garlic and butter or olive oil.  Actual scampi are slender lobsters that grow to a maximum of about 8 inches in length and weight of less than a half-pound–not to be confused with prawns which are jumbo shrimp.
Ingredients
2 pounds TBS shrimp, shelled and deveined
4 tablespoons butter
2 tablespoons olive oil
4 garlic cloves, minced
½ cup seafood broth
½ teaspoon salt
½ teaspoon red pepper flakes
Black pepper, to taste
⅓ cup chopped parsley
2 tablespoons fresh lemon juice
Cooked pasta
Directions:
Prepare your pasta and set aside if it is done before the shrimp are cooked.
Saute the garlic in a large skillet with melted butter and olive oil over medium heat.  Add the broth, salt, red pepper flakes, and some black pepper.  Simmer until the liquid is reduced by half.
Add the shrimp.  Saute until the shrimp turn pink (only about 3 minutes, depending on the size of the shrimp).  Do not overcook the shrimp–the meat will get very tough and chewy.
Stir in the lemon juice and parsley.  Serve over the pasta.
Get the best ingredients for your holiday meals at The Butcher Shop!
We receive ocean-fresh seafood shipments on Mondays, Wednesdays, and Fridays.  When you bring home seafood from TBS, you can rest assured it will go from being caught to served on your plate within 24 hours.  Along with seafood and meat, TBS is your source for locally grown produce, fresh bakery items, and other specialty grocery items.  Stop by today and see what's in store for your best meals!