Delicious Roasted Halibut is Easier than You Think
Preparing fish can be intimidating to even experienced chefs.  Even in the Pacific Northwest, good fish comes at a slightly higher price, so the pressure to cook it correctly is accordingly greater.  However, starting with the basics, it's easy for any cook to create a delicious roasted halibut dinner.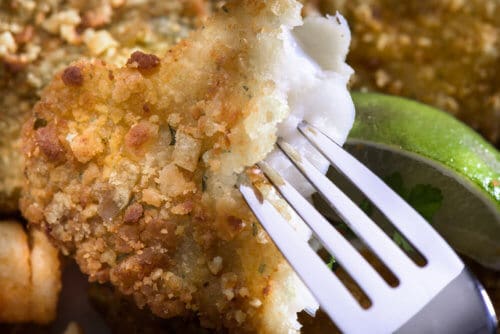 Ingredients:
About 1 ½ pound of TBS halibut fillets
1 cup panko bread crumbs
3 tablespoons parmesan cheese, grated
1 tablespoon fresh parsley, finely chopped
½ teaspoon garlic powder
½ teaspoon onion powder
¼ teaspoon salt
Pepper to taste
2 tablespoons unsalted butter, melted
1 lemon sliced into wedges
Nonstick cooking spray
Directions:
 Preheat the oven to 450 F and prepare a baking sheet by spraying it with cooking spray.
Cut the halibut into approximately 6-ounce pieces.  With 1 ½ pound of halibut, this should provide you with 4 pieces.
Place the fish onto the baking sheet skin side down.
In a medium bowl, combine the panko bread crumbs, parmesan cheese, parsley, garlic powder, onion powder, salt, pepper, and melted butter.  Mix well until it becomes crumbly.
Sprinkle the crumb mixture on top of the halibut pieces and lightly pat them down.
Bake the fish for 10 to 12 minutes until the temperature of the halibut reaches 145 F.  The texture of the meat should be flaky when pulled with a fork.
Serve the halibut with lemon wedges.
For the freshest seafood, visit The Butcher Shop.
Buying fish from TBS is the next best thing to purchasing straight off the fishing boats on the coast.  Fish and seafood arrive at our store on Mondays, Wednesdays, and Fridays straight from tiny fishing outfits in nearby coastal towns.  All of our fish is fresh and has never been frozen.  Call us at 541-830-3369 to learn what fish and seafood are currently available and place your pre-order for easy pickup.