Spice Up Your Summer BBQ with Grilled Meatloaf
Meatloaf doesn't have to be your basic oven-baked dinner. With a few non-traditional ingredients and a hot grill, you have the perfect makings for a grilled meatloaf dinner to be enjoyed on the back deck.  Add grilled corn on the cob or barbeque baked beans, and get ready for a relaxing meal with friends and family.
Remember, The Butcher Shop is the place to go to purchase locally sourced meats and fresh produce. Our meats are natural, non-GMO, and free-range products sourced from local farmers.  And, our sausages are made in-house.  When you want the best for your family, visit us at TBS.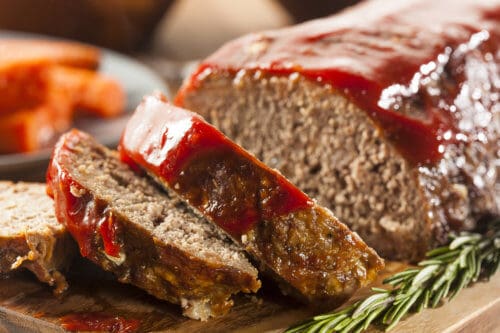 Ingredients:
1 pound TBS ground beef (not too lean).
½ pound TBS ground mild Italian sausage
¼ cup green onions, finely chopped
1 red bell pepper, chopped
¼ cup fresh parsley, chopped
2 garlic cloves, minced
1 cup panko bread crumbs
2 eggs, lightly beaten
¼ cup milk
3 tablespoons ketchup
2 tablespoons Worcestershire sauce
3 drops hot pepper sauce
½ teaspoon salt
¼ teaspoon pepper
Your choice of spicy barbeque sauce
Cooking spray
Directions:
Preheat your gas grill to medium or get your charcoal briquets going.
Combine all of the ingredients in a large mixing bowl.  Mix ingredients thoroughly.
Place the mixture onto a sprayed 8×8 grilling pan and shape the meat into a loaf.  Your pan should have sides, so the cooking juices from the mixture don't spill into your grill.  Make sure there is at least 1/2 inch between the edges of your loaf and the edges of the pan.
Cover and grill for 30 minutes.
Remove from the grill and pour 1 cup of barbeque sauce over the meatloaf. Return it to the covered grill until the loaf is firm and the sauce begins to bubble.  This will take about 30 minutes.
Remove the loaf from the grill and allow it to rest for at least 10 minutes.
Transfer your loaf from the pan to a platter or cutting board.  Serve slices with additional barbeque sauce to taste.