How to Make Venison Chili
When the temperature starts to drop, there's nothing better than coming inside to a big pot of simmering chili. Add some biscuits or cornbread, and you've got a hearty winter meal that'll keep you going even on the coldest days. You can make chili with just about any type of meat, including beef, chicken, turkey, and sausage. But one of our favorite varieties is venison chili. It's got a distinct flavor that can't be replicated, and the spices and vegetables are the perfect complements to the lean deer meat.
How to Make Venison Chili
If you've been working in the kitchen for a while, you've probably got your own favorite chili recipe. You can substitute the usual beef or chicken with venison, but we think this recipe brings out the flavors of the venison without overpowering it. Try it out and see what you think! You might just find that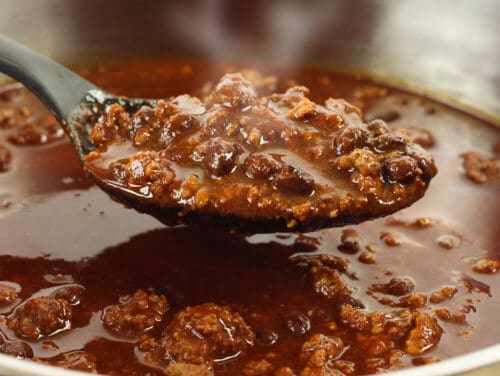 you have a new favorite chili recipe in your household.
Venison Chili Ingredients
1 pound ground venison
1 can diced tomatoes
1 can chicken broth
1 can red kidney beans
1 cup chopped onion
1 cup chopped green bell pepper
1 chopped jalapeño pepper
4 minced garlic cloves
2 tablespoons chili powder
1 tablespoon tomato paste
1/2 teaspoon salt
1/2 teaspoon pepper
1/2 teaspoon ground cumin
Directions
1. Place a dutch oven on the stove over medium-high heat. Add the ground venison to the pan and cook for a few minutes until the meat has browned. Remove the meat from the pan and set aside.
2. Lower the heat to medium, then add the bell pepper, jalapeño pepper, onion, and garlic to the pan. Cook for ten minutes until the ingredients have softened.
3. Add the chili powder, salt, cumin, and pepper. Stir in the venison, chicken broth, diced tomatoes, and tomato paste, then bring the pot to a boil.
4. Once the pot starts to boil, cover the pot and reduce the heat. Let the ingredients simmer for 30 minutes.
5. Remove the lid and add the kidney beans. Let the chili simmer for another 15 minutes. Spoon the chili into bowls and serve!
Where to Buy High-Quality Ingredients
Using high-quality ingredients can mean the difference between a "so-so" pot of chili, and a delicious simmering pot of flavorful vegetables, fragrant spices, and freshly ground meat that you can only get from the finest butcher shops. At The Butcher Shop, we've got everything you need to make the best pot of chili you've ever tasted. Our meat is sourced directly from local free-range farms, so your plate will be free of artificial hormones and GMOs. Add some freshly picked vegetables from our grocery, and you've got a hearty pot of chili that will have everybody coming back for seconds.