Homemade Elk Chili
There is nothing more comforting than homemade elk chili on a cold, winter day. And the best thing about this recipe is that you can prepare and cook it in only two and a half hours or less! This easy-to-cook recipe requires a minimum of ingredients and can provide a tasty meal for up to eight people.
Homemade Elk Chili Ingredients
One Pound of Ground Elk
One Medium to Large Onion Diced and Sauteed
One 15 Ounce Can Italian Stewed Tomatoes
One 16 Ounce Can Chili Beans
One 12 Ounce Can Tomato Paste
One 1.25 Ounce Envelope Chili Seasoning Mix
One 16 Ounce Can Beef Broth
Directions for Homemade Elk Chili
Brown ground elk in a large skillet being careful not to overcook as elk is low in fat and cooks rather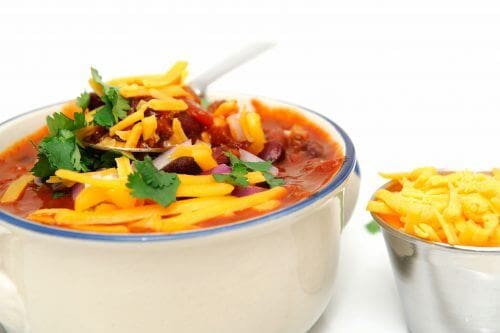 quickly. Add diced and sauteed onions just before meat is done. Mix in tomato paste and broth stirring until smooth. Stir in chili beans, Italian stewed tomatoes, and chili seasoning mix. Simmer on a low heat for one and a half to two hours stirring occasionally. When done, top with shredded pepper jack cheese. Serve with cornbread and/or overcooked mashed potatoes.
Possible Substitutes
Pinto beans or kidney beans may replace chili beans
12 Ounces of water may replace beef broth
Homemade white bread or crackers can replace cornbread
Cooked white rice can substitute for mashed potatoes
Medium spicy salsa may replace stewed tomatoes
Shredded cheddar cheese can substitute for pepper jack
Potential Add-ins and variations in addition to shredded cheese, add a bit of sour cream and/or chopped green onions on top of finished chili.
If you like spicy foods, add a bit of jalapenos or hot sauce to chili before simmering.  If you want a bit of a sweet taste to your chili, add one or two tablespoons of light brown sugar to chili before simmering
Cooking Time
Preparation: 10 to 15 minutes
Total Cooking Time: Approximately two to two and a half hours
Yields: Six to eight one-cup servings
Share your delicious homemade elk chili with all of your family and friends! And be sure to visit the Butcher Shop where you will find high-quality, locally meats and produce.