This rack of lamb recipe is not only extremely delicious, but it is also probably one of the most unique recipes that you'll find for this highly popular dish. As is the case with any meat-themed recipes, the best ingredients will quite obviously yield the very best end result. When selecting the proper meat for this recipe make sure to visit us at the Butcher Shop to purchase our locally sourced grass-fed lamb.
Rack Of Lamb Recipe:
Servings: 4
Preparation Time: 10 minutes
Cooking Time: 35 minutes
Ingredients
2 Trimmed Grass-fed Racks of Lamb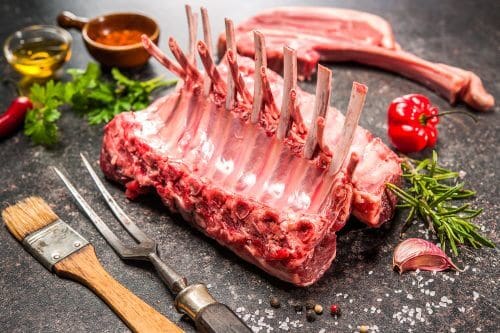 4 Tablespoons of Dijon Mustard
1 Pinch of Sea Salt
1 Pinch of Freshly Ground Black Pepper
1 Teaspoon of Herbes de Provence
2 Tablespoons of Extra Virgin Olive Oil
2/3 Cup of Crushed Salted Cashews
3 Tablespoons of Seasoned Dried Bread Crumbs
1 Tablespoon of Melted Butter
2 Tablespoons of Finely Chopped Jalapenos
Directions
1. First, you will want to preheat your oven to 400 degrees Fahrenheit or 200 degrees Celsius.
2. Take out a large baking sheet and completely line it with aluminum cooking foil.
3. Generously season both racks of the grass-fed lamb with the sea salt, ground black pepper, and herbes de provence.
4. Using a large cooking skillet, heat one tablespoon of the extra virgin olive oil and the butter. Place the heat on high and then add in both racks of meat. Let the grass-fed lamb cook for 5 to 9 minutes, or until each side of the meat has started to lightly brown. Once this step is completed, place the lamb on to the aluminum foil-lined baking sheet.
5. Take out a large mixing bowl. Add into the bowl the finely chopped jalapenos, bread crumbs, one tablespoon of extra virgin olive oil, crushed salted cashews, sea salt, and freshly ground black pepper. Using a wooden mixing spoon, rapidly stir these ingredients together until an even and consistent mixture forms. Once you are done, set the bowl aside.
6. Using a large flat butter knife, lather the fat side of the meat rack with the dijon mustard. Be sure that the dijon mustard is evenly dispersed and that the whole fatty surface is covered.
7. Using clean hands, take the jalapeno and cashew mixture from the bowl that you set aside and pat the ingredients on top of the dijon mustard. Again, make sure that the lamb has a nice even coating and all of the ingredients within the bowl are used.
8. Slide the baking sheet with lamb racks into your preheated oven. Bake the meat for 25 minutes, or until the meat is done.
9. Once the lamb has been cooked, remove it from the oven and let it sit on a plate to cool for 10 minutes. Once the meat has cooled, take out a very sharp kitchen knife and slice the lamb into even portions.
10. Serve the sliced and warm lamb with sides of steamed brown rice, steamed broccoli, and garlic mashed potatoes. A glass of red wine also compliments this meal exceptionally well.
You can find the perfect ingredients for this Rack of Lamb at the Butcher Shop. And make sure to check out some of our other recipes at theButcherShop.com. 
---