Hawaiian Honey Glazed Ham Recipe
This Hawaiian-style honey glazed ham recipe adds a delicious islander twist to an age-old American dish. While the thought of baking a ham can seem like a daunting challenge if you've never cooked one before, completing the recipe is much easier than you would think. The recipe that we have prepared below is very customizable, so if you feel the need to add or subtract an ingredient or adjust the ingredient proportions, then you can easily do so.
In order to maximize the deliciousness of this fabulous honey glazed ham recipe, we highly recommend that you use a TBS in-house smoked ham and organic fruits. These fresh healthy ingredients will not only taste better, but they'll also be a lot healthier for you and your family to eat. Visit our website or visit our store and browse through our huge selection of premium meats, fruits, and vegetables.
Servings: 10
Preparation Time: 30 minutes
Cooking Time: 2 Hours
Ingredients
1 Large Smoked and Cured Ham From Pastured Pork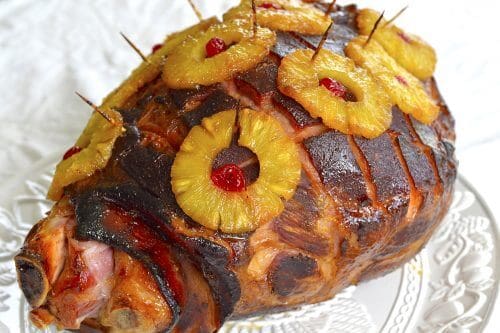 1/2 Cup of Fresh Pineapple Juice
1 Cup of Brown Sugar
1/2 Cup of Bees Honey
1/4 Cup of Freshly Squeezed Orange Juice
2 Tablespoons of Dijon Mustard
2 Tablespoons of Freshly Squeezed Lemon Juice
1 Teaspoon of Allspice
1/4 Teaspoon of Cloves
1/2 Teaspoon of Ground Nutmeg
1 Teaspoon of Ground Ginger
2 Tablespoons of Spiced Rum
1 Package of Toothpicks
1 Small Can of Organic Pitted Cherries
1 Large Can of Drained Pineapple Rings
Directions
1. For the first step, you will want to preheat your oven to 325 degrees Fahrenheit or 165 degrees Celsius.
2. Take out a large roasting pan and place the uncooked ham on to it cut side facing down. Evenly sprinkle the ham with the brown sugar, making sure that you cover the entire surface of it. Next, take tin foil and cover the pan completely, allowing for some breathing room.
3. Slide the ham into the preheated oven and cook it for 10 minutes per pound of meat.
4. Take out a small saucepan and then add into it 1/4 cup of brown sugar, Dijon mustard, fresh orange juice, fresh pineapple juice, bees honey, nutmeg, spiced rum, allspice, cloves, ginger, and fresh lemon juice. Bring all of these delicious ingredients to a boil and then let it simmer for roughly 5 minutes, or until the mixture is thick and syrupy.
5. Once your ham is done, cover its surface with the pineapple rings and cherries. Hold the pineapple rings in place with toothpicks and then place a cherry with a toothpick in the center. Continue until you have used all of the pineapple rings and cherries.
6. Brush the ham with the thick syrupy glaze that you created in the saucepan. Don't be afraid to lather it on, as this will give your meat a nice delicious flavor. Once you're done glazing the ham, let it cook in the oven for an additional 20 minutes.
7. Take your fresh baked ham out of the oven and let it cool for 15 minutes. Serve with a side of glaze if you have any of it left over.