The Passion for Grilling Ahi Tuna
There is nothing quite like the aroma of fresh ahi tuna sizzling on the grill. You may be concerned about your fish sticking, flaking apart or not being certain when your tuna is done cooking. We want you to realize there is nothing easier to grill to perfection than an ahi tuna steak. The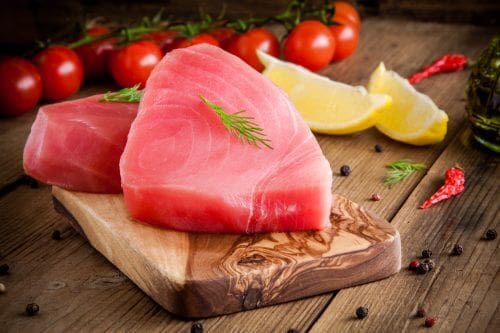 best place to begin is to make certain the tuna you purchase is of the highest quality. We highly recommend sushi grade ahi tuna. This well-loved tuna has a smooth texture, pink color and sensational mild flavor. The steaks hold together beautifully when grilled and provide an incredible meal.
Cooking Grilled Tuna to Perfection
You will discover ahi or yellowfin tuna have the best texture and flavor when you grill them medium rare. This is when the inside is raw but the outside is seared. This fish is used in sushi quite often but we realize not everyone likes rare fish. If you decide to grill your yellowfin tuna until medium, you will still experience a delightful flavor. We advise you not to grill your tuna for too long or it will become very dry. We recommend searing your tuna on a charcoal or gas grill because this will provide just the right heat. The outside of the tuna will cook very quickly. Then you need to decide how much longer you want your grilled tuna to cook.
Grilling Delicious Ahi Tuna
It is very easy to use your grill to sear ahi tuna steaks. The correct cooking time and instructions for cooked-through medium and medium-rare steaks are very similar. For medium-rare, make certain your charcoal grill has a hot coal bed or preheat your gas grill for high. Use olive oil or melted butter to brush your steaks then season using a rub or salt. We recommend brushing a little oil on your grill grates to help ensure your steaks do not stick. Your tuna should be placed directly on the grates and cooked on each side for sixty to ninety seconds or until the outside color becomes opaque. Take the steaks off your grill and then serve. The steps for cooking your steaks cooked-through medium are the same except you want to cook them for between four and five minutes on each side.
Serving Mouth Watering Tuna Steaks
Seared tuna is not only delicious, it is incredibly versatile. You can be creative in how you choose to serve such as drizzling the steaks with a sweet or tangy soy sauce or sprinkling with toasted sesame seeds. We recommend making a fresh mango salsa using just a bit of spice and sweet, ripe fruit. You can serve your tuna with an herby sauce, a quick chimichurri or over a salad topped with a zesty Asian vinaigrette. A hot chili paste or soy sauce make exceptional and unique dips. The best place to purchase your vegetables and meats is at the Butcher Shop. We offer the highest quality fruits and vegetables and grass-fed local meats. Visit the Butcher Shop now at to find the perfect tuna steak.