Once you've made the perfect meal, you'll need a delicious recipe for all the leftover pot roast.  This easy recipe will fill all those cool weather cravings your family has.  Store your leftovers in the refrigerator with the juices.  When you're ready to make this recipe, warm them in the microwave to cut the chill.  
The following quantities are for about 3 pounds of leftover TBS chuck roast prepared as a pot roast.  Adjust the quantities accordingly based on the amount of leftovers you have.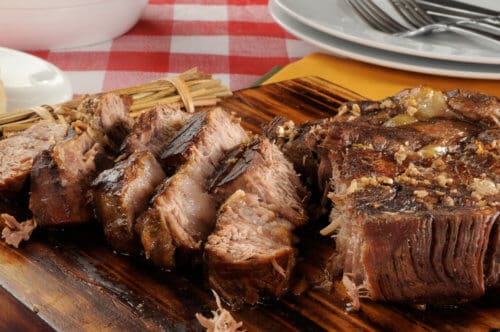 Ingredients:
6 large Yukon gold potatoes

1 tablespoon canola oil

2 ½ teaspoon kosher salt

2 tablespoons cornstarch

1 cup beef broth

4 ounces cream cheese (brought to room temperature)

4 ounces sour cream (brought to room temperature)

2 tablespoons butter

½ teaspoon table salt

Fresh parsley, for garnish
Directions:
Warm up the leftover pot roast in the microwave just to cut the chill.

 Shred the pot roast using two forks.  Pour the juices into a medium saucepan.

Make the gravy.

 Mix the beef broth and cornstarch in a medium bowl.  Heat the saucepan with the pot roast juices until it bubbles slightly.  Pour the broth and cornstarch mixture into the heated juices a little at a time, occasionally stirring until the liquid begins to thicken.  Reserve about ½ cup of gravy, and pour the rest back into the pot roast.

Preheat the oven to 350° F.
Bake potatoes the first time!

 Scrub each of the potatoes well to remove any dirt.  Use a fork to prick holes throughout the potato skin so the air can escape.  Coat each with canola oil and kosher salt.  Bake for 1 hour until they are fork-tender

Get ready to bake potatoes the second time!

 Lay each potato down horizontally and cut the top off, making a "potato boat."  Use a spoon to scoop out the center of each and put the scooped contents into a mixing bowl.  Place the hollow shells on a baking sheet.  

Prepare the mashed potato stuffing.

 Take the bowl of potatoes, and add the reserved gravy, cream cheese, sour cream, butter, and salt.  Mash the contents until they are creamy.  Fill each of the hollowed shells with the filling.  Use a spoon to push a little well into the top of each.

Add the pot roast! 

Top each of the potatoes with a scoop of pot roast and gravy mixture.  

Bake for 15 to 20 minutes until thoroughly warmed.
Find everything you need for a delicious and healthy dinner at The Butcher Shop.
We know preparing healthy meals for your family is important.  That's why The Butcher Shop always carries locally sourced meats and produce from farms right here in Southern Oregon.  At TBS, you'll find the perfect cut of meat for your meal, plus fresh-baked loaves of bread, fresh fruit and vegetables, local wine and beers, and even quality food specifically for your canine.  Stop by today or call ahead to pre-order your ingredients.