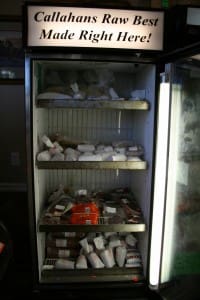 Give your dog the food it deserves, without all of garbage that usually comes along with it.
Our natural dog food is 100% meat. Offering nutritional blends, chock full of the proteins and vitamins your pet needs, our dog food is designed to fit the diet that dogs have lived on for thousands of years.
From a healthier coat, to more energy, to a stronger immune system, natural dog food offers many great benefits that you could never get from other dog foods.
Call us at 541-830-3369, for availability and get your dog on track to a healthier lifestyle today.
Many Natural Dog Food Options To Choose From:
Chicken
Turkey
Rabbit
Lamb
Elk
Buffalo
Butcher's Choice – A special blend of all natural beef, lamb, elk, and buffalo meat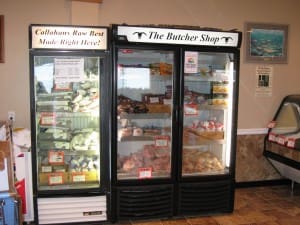 Some Of The Many Benefits Of A Raw Pet Food Diet:
Healthier coat and skin
Better digestion and stool
More energy
Stronger immune system
Cleaner teeth and gums
Fresher breath
Improved behavior and disposition
Weight control assistance
Contact The Butcher Shop today at 541-830-3369, or browse our website for more information about grocery items or fresh meat and seafood.