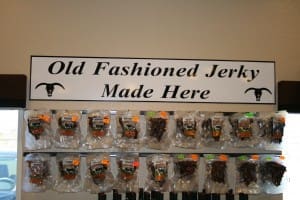 The Butcher Shops Tried and true Beef Jerky recipe that has pleased so many... We carry several flavors of our award winning Butcher Shop Homemade Jerky.  Elk, Beef, Buffalo, as well as Peperoni & Salmi, try them all.
Brown Sugar
Teriyaki
Black Pepper
Cajun (sweet hot)
Halbanero
Sugar Free Beef Jerky
Chicken Jerky:
Black Pepper
Teriyaki
Hot
Pork Jerky:
Honey Cinnamon
Black Pepper
Salami (Beef, Buffalo, Elk):
Regular-Traditional Pepper Flavor
Jalapeno
Teriyaki
Cheddar
Jalapeno Cheddar
Five Alarm HOT!
Pepperoni (Beef, Elk, Buffalo):
Regular-Traditional Pepperoni Flavor
Teriyaki
Honey
BBQ
Luau
Jalapeno
Cheddar
Jalapeno Cheddar
Extra Hot
Jerky (not always available)
Lamb Black Pepper
Alligator