With fresh produce from local farmers and delectable bakery items, you could easily forget that you weren't at the farmer's market.
So much more than just a butcher, The Butcher Shop has a full line of constantly updating products that are either made in house or sourced locally, whenever possible.
We take our environmental responsibility seriously and approach the procurement of every item, with this in mind. Stop by our Eagle Point shop today, to browse our constantly updated selection.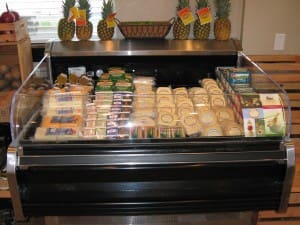 Specialty Grocery Items Like:
Locally sourced produce (seasonal)
Fresh local bakery items
No nitrite / nitrate bacon and ham
Specialty and diabetic jerky
Special cheeses
Nitrite / nitrate free house made lunch meats
Local and regional wines
By avoiding the middleman whenever possible, we are able to offer you high quality products, at great prices.
Contact The Butcher Shop today at 541-830-3369, or browse our website for more information about fresh meat and seafood or natural dog food.